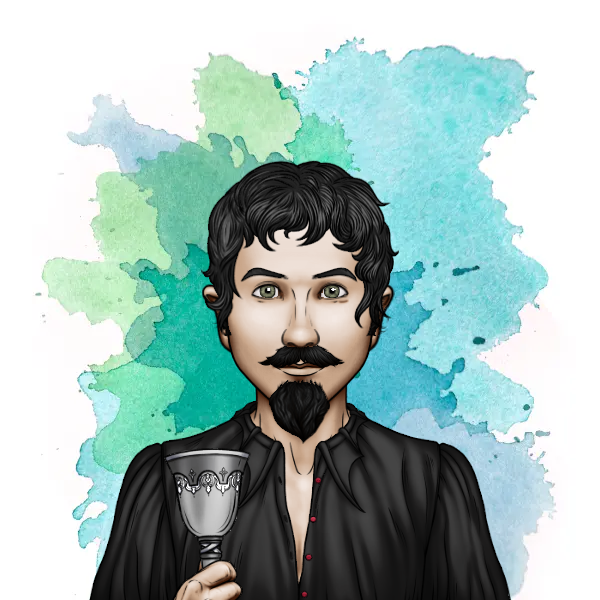 image made with Portrait Workshop
STATS
Name: Urbain
Age: 25
Gender: Male
Species: Halfling:
Description: Urbain is a small and slender man with jet black, wavy hair, a moustache and goatee. He has bright green eyes that are always looking at something interesting. He likes to wear loose shirts and jeans.
Personality: Urbain is a funny guy who likes to make jokes. He has a passion for slapstick and word jokes. His humour can be described as lame, but he just makes it work. Maybe one day he'll make it as a stand-up comedian but for now he just plays on Thursday nights at the local free podium.
Social Circle: Married to Ule, has quite a few friends and a large extended family.
Short Bio: Urbain lost his father at a young age and learned to be liked by others to survive. He started helping his mother at a young age, and is proud that his brothers got to study. He works odd jobs (often for someone in the family) to earn money to fund his dream.

2. THE CHECKERBOARD BALL
text
image

3. FLIGHT
text
image
[Back to Main Story]
[ALIDA] [ARMAND] [ESTHER] [ERWIN]
[IMKE] [ISIDOOR] [ODETTE] [OSWALD] [ULE] [URBAIN]

Lantessama Isle
Candidates at the New Years Eve Checkerboard Ball