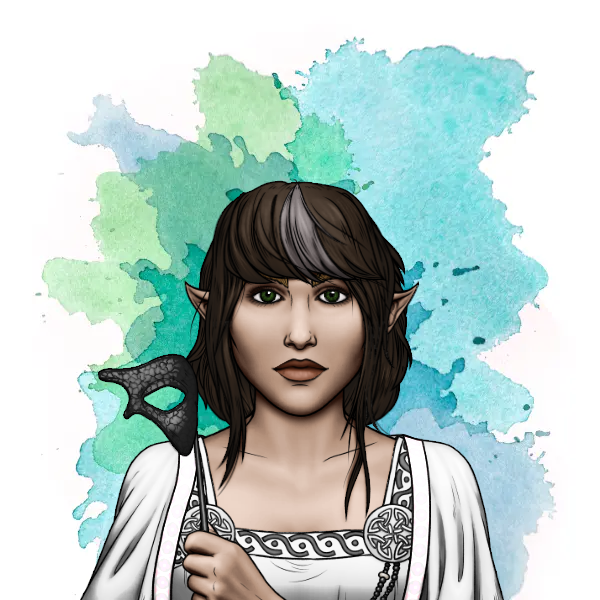 image made with Portrait Workshop
STATS
Name: Ule
Age: 24
Gender: Female
Species: Halfling
Description: Ule is a dainty young woman. She may be small of stature but she has a large presence. Her dark hair has one single silver streak at the front. She keeps her thick black hair loosely tied back. She has deep green eyes that have a world-weary look. She likes to wear bright clothes.
Personality: Ule is larger than life. She is always the center of attention and likes being there. She often reads to people or performs as an actor. She likes to observe people and think about what they're doing or why they're there. Getting into character is a way of life to her.
Social Circle: Married to Urbain, has a close circle of friends that she trusts and a wide circle of acquaintances she mingles with at parties.
Short Bio: Ule grew up in a travelling group of performers. She's never had a home base but still yearned for one. She has now found her home in the presence of her husband. The travelling has become so ingrained in her that she can't stay in the same place for long.

2. THE CHECKERBOARD BALL
text
image

3. FLIGHT
text
image
[Back to Main Story]
[ALIDA] [ARMAND] [ESTHER] [ERWIN]
[IMKE] [ISIDOOR] [ODETTE] [OSWALD] [ULE] [URBAIN]

Lantessama Isle
Candidates at the New Years Eve Checkerboard Ball