Morphe
Stats:
Name: Morphe
Age: male
Gender: 23
Description: Morphe is the benjamin of the Forester team and started working with the team only two years back. He is of medium build, medium height with brown hair and light brown eyes that often seem to change colour along with the disguises he comes up with to pass time when walking through the forest isn't quite as exciting as it once seemed to be. He likes to joke around and usually is the one that livens things up in the old cabin, along with his young vulpa Resh which he rescued from predators one day and hasn't been able to lose since.
Skill: Hiding, Disguises
Pets: Striped Beige vulpa Resh (m) from Drockh-Tallahn Castle.
Drak: -- (?) from Drockh-Tallahn Castle.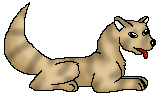 Hatching:
text
image
Trained by --
Knight Training

Knighthood:
text
image
the Others:
Xetho - Rayne - Doshi - Morphe - Lynn - Giles - Odette
*Story*


All images were made by me with images found on the web.