Frederico Scarlatti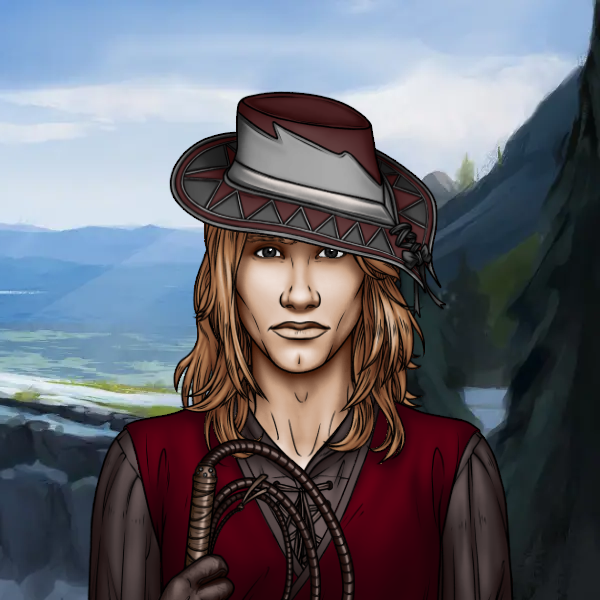 image made with Portrait Workshop
STATS
Name: Frederico Scarlatti
Age: 24
Gender: Male
Description: Frederico is on the smaller side for a man, with a lithe build, thin face, big nose and wide mouth. He has a pronounced chin with a cleft. He keeps his Venetian-blonde hair at shoulder length. His brown eyes are usually veiled beneath a wide-brimmed hat.
Personality: Frederico is a rogue. He enjoys the thrill of bending the law and likes to bet with his freedom to feel he's alive. At some places he's known as Freddy Scarlet, at other places he goes by Rico Star and sometimes he's just known as "Red", the pirate that can charm the money right out of your pockets. He uses this ill-gained money to bet at the Dun Keiba races.
Short Bio: Frederico was born in a small village that pirates frequented. His mother raised him until he was old enough to walk after which his father took custody of him and taught him everything he knows.
Hobbies: Betting on the races, Practicing his charms on the ladies (and sometimes gentlemen).
Pets: -
Drak: ?? from ???
,.-'-.,,.-'-.,,.-'-.,,.-'-.,,.-'-.,,.-'-.,,.-'-.,,.-'-.,,.-'-.,,.-'-.,,.-'-.,,.-'-.,,.-'-.,,.-'-.,,.-'-.,,.-'-.,
HATCHING
text
,.-'-.,,.-'-.,,.-'-.,,.-'-.,,.-'-.,,.-'-.,,.-'-.,,.-'-.,,.-'-.,,.-'-.,,.-'-.,,.-'-.,,.-'-.,,.-'-.,,.-'-.,,.-'-.,
KNIGHT
text
,.-'-.,,.-'-.,,.-'-.,,.-'-.,,.-'-.,,.-'-.,,.-'-.,,.-'-.,,.-'-.,,.-'-.,,.-'-.,,.-'-.,,.-'-.,,.-'-.,,.-'-.,,.-'-.,
[STORY] + [FREDERICO] [RAFAELLO] [DONATELLO] [VITTORIA]
,.-'-.,,.-'-.,,.-'-.,,.-'-.,,.-'-.,,.-'-.,,.-'-.,,.-'-.,,.-'-.,,.-'-.,,.-'-.,,.-'-.,,.-'-.,,.-'-.,,.-'-.,,.-'-.,