Rafaello Ponti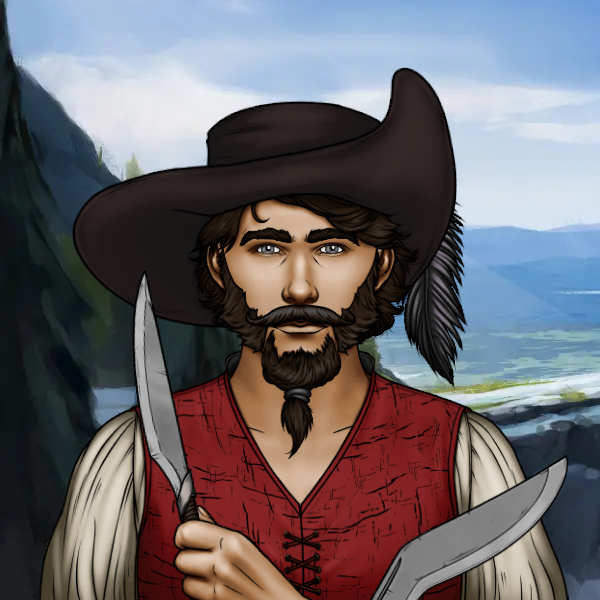 image made with Portrait Workshop
STATS
Name: Rafaello Ponti
Age: 26
Gender: Male
Description: Rafaello is a handsome man, tall and muscled with a tanned skin and thick brown hair. He keeps his hair tied back and his beard trimmed to look good and groomed. He has very light blue eyes that most ladies find very sexy. Rafaello is very agile and has quick reflexes that he gained from knife-fights.
Personality: Rafaello is a flirt. He carries himself with flair and likes being in the spotlight. As such he doesn't often participate in the less than savoury expeditions of the pirates on "The Chubby Lady", but he is their scout and learns quite a lot by visiting local bars and charming a few disgruntled women.
Short Bio: Rafaello grew up in a bordello and learned at a young age what goes on between men and women. He used that knowledge to support himself while travelling around Icarus until he joined the crew of Donatello.
Hobbies: One-night stands.
Pets: -
Drak: ?? from ???
,.-'-.,,.-'-.,,.-'-.,,.-'-.,,.-'-.,,.-'-.,,.-'-.,,.-'-.,,.-'-.,,.-'-.,,.-'-.,,.-'-.,,.-'-.,,.-'-.,,.-'-.,,.-'-.,
HATCHING
text
,.-'-.,,.-'-.,,.-'-.,,.-'-.,,.-'-.,,.-'-.,,.-'-.,,.-'-.,,.-'-.,,.-'-.,,.-'-.,,.-'-.,,.-'-.,,.-'-.,,.-'-.,,.-'-.,
KNIGHT
text
,.-'-.,,.-'-.,,.-'-.,,.-'-.,,.-'-.,,.-'-.,,.-'-.,,.-'-.,,.-'-.,,.-'-.,,.-'-.,,.-'-.,,.-'-.,,.-'-.,,.-'-.,,.-'-.,
[STORY] + [FREDERICO] [RAFAELLO] [DONATELLO] [VITTORIA]
,.-'-.,,.-'-.,,.-'-.,,.-'-.,,.-'-.,,.-'-.,,.-'-.,,.-'-.,,.-'-.,,.-'-.,,.-'-.,,.-'-.,,.-'-.,,.-'-.,,.-'-.,,.-'-.,