Vittoria Ricci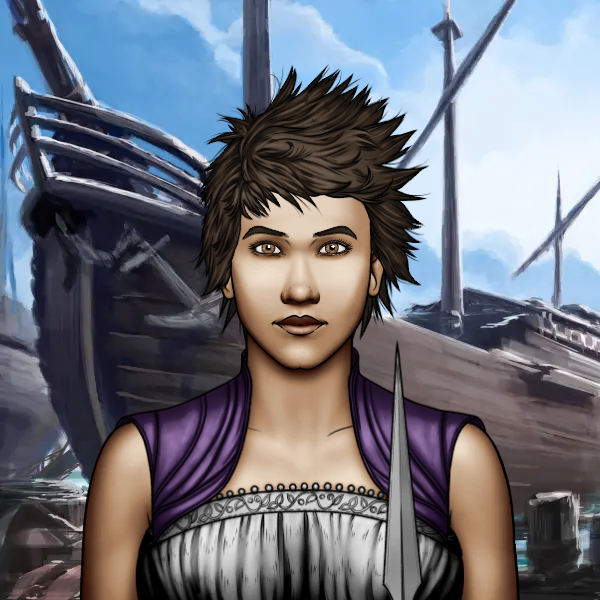 image made with Portrait Workshop
STATS
Name: Vittoria Ricci
Age: 21
Gender: Female
Description: Vittoria is a young woman with a willowy build, small heart-shaped face, bright amber eyes and dark hair that she keeps short and spiky. Vittoria is often referred to as "pixie" by her fellow crewmen because of her short stature and boyish looks.
Personality: Vittoria is a little spitfire. She is spunky and ad-rem with a loud opinion that she voices without hesitation. Her character is much larger than her stature and she seems to take up more place than her physique would suggest.
Short Bio: Vittoria grew up in an oceanside village that the pirates frequented and she often played with their sons, matching them in everything they dared her to do. So it didn't come as a surprise when she joined one of their crews. She mainly stays on board but will fight when necessary.
Hobbies: Dancing.
Pets: -
Drak: ?? from ???
,.-'-.,,.-'-.,,.-'-.,,.-'-.,,.-'-.,,.-'-.,,.-'-.,,.-'-.,,.-'-.,,.-'-.,,.-'-.,,.-'-.,,.-'-.,,.-'-.,,.-'-.,,.-'-.,
HATCHING
text
,.-'-.,,.-'-.,,.-'-.,,.-'-.,,.-'-.,,.-'-.,,.-'-.,,.-'-.,,.-'-.,,.-'-.,,.-'-.,,.-'-.,,.-'-.,,.-'-.,,.-'-.,,.-'-.,
KNIGHT
text
,.-'-.,,.-'-.,,.-'-.,,.-'-.,,.-'-.,,.-'-.,,.-'-.,,.-'-.,,.-'-.,,.-'-.,,.-'-.,,.-'-.,,.-'-.,,.-'-.,,.-'-.,,.-'-.,
[STORY] + [FREDERICO] [RAFAELLO] [DONATELLO] [VITTORIA]
,.-'-.,,.-'-.,,.-'-.,,.-'-.,,.-'-.,,.-'-.,,.-'-.,,.-'-.,,.-'-.,,.-'-.,,.-'-.,,.-'-.,,.-'-.,,.-'-.,,.-'-.,,.-'-.,