Saryn
1. STATS
Saryn
female, 19 (22 when going exploring with the IceLandic Kids)
A slender woman with blond hair and brown eyes. Saryn's a great messenger and an excellent cook. She enjoys the stories of the elders and grew up to be a rational woman with a careful eye toward the things unseen. She is a careful believer that wants to be loved.
2. From Lantessama to Beyond
The South was not what they'd expected. A relatively short flight brought the 5 IceLanders to a moderate-climate island. The island was dominated by 3 mountains at it's heart and was covered in forest that dwindled to grasslands, dunes and sandy beaches. The trees in the forest were of a variety that Rygha hadn't seen before. Leaves in all shapes and sizes shaded the ground from a sun that shone with a warmth that she didn't recognise from even the hottest day in the middle of Summer. That first day was filled with wonder as they reconnected with the present IceLanders living on the Isle and heard the truth about dragons. It seems their deep-rooted fears were ungrounded. It was bitter to realise that the entire foundation of their lives was a lie.
A greater surprise was maybe that they were chosen to attend the winter clutch of that year and that they'd have a chance to bond a dragon of their own. As dragons could chose to mate for life and it wasn't wise to mate siblings, Saryn elected to wait for a later clutch. And to everyone's surprise, Rygha decided she would not attend the clutch either. When asked she couldn't give a specific reason, other than it didn't feel right for her. Maybe the others would have commented more if they didn't know that Rygha was often right about things she should not be right about. Or maybe it was just the declaration of Yvander, saying that he would take the chance to bond, that made them all forget about her beliefs.
The time of the hatching came and Yvander, Svyn and Sha'uny bonded the most amazing creatures. Sleak dragons with six limbs and 2 sets of feather-soft wings. Saryn eagerly awaited for the day that she would share in the feeling of the bond that had changed Svyn from a slightly insecure young man to a steadfast companion. All the while she learned more about the amazing places that existed outside of IceLand. Dragons came and went through portals, cracks or just winked in and out of existence. If you could imagine it, it was possible.
It was Sha'uny that spurred Saryn and Rygha into action. She had heard about an unusual place that hosted wolf adoptions. In IceLand wolves were enemies. At best you went unnoticed or they weren't hungry enough to bother with you. So the possibility of people forming a bod with these animals was a strange concept. Sha'uny wanted to see what they were like, her inquisitive nature only sharpened by the recent adventures.
So the other two women agreed and ventured to Sgiath Wolfkeep on a girl's day out...
3. BONDING
Saryn hadn't intended to bond, in fact she'd intended to be nothing more than an innocent bystander. But somehow, she'd looked in the eyes of one of the pups, extended a hand... and she was lost. The little dark-grey male wolf seemed to speak to her with the longing look in his eyes. Though he seemed friendly, he also seemed to need someone to protect him. Since Saryn had always had a motherly streak, he seemed to be made just for her. So how was she going to explain this to Svyn?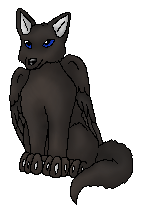 Name: Lussak Sirhaan
Gender: Male
Breed: Reririan/Alskyrian Pernese
Litter: 6
Parents: Dark Brown Dyami Sirhaan & Red Athore Kethlar
Personality: gullible, independent, and meticulous
4. ADULTS
Getting back to Lantessama Isle had been the easiest to do. Neither of the wolves were afraid of dragons and didn't make a fuss about being hoisted up on Senua Gote. Grabbing tightly on to the pups, the trip back only took a couple of minutes.
As Saryn descended from the dragon, she felt Svyn's eyes on her, wondering what she was holding in her arms.
"Well, this doesn't have to be a problem..." she started, only to be interrupted as he came closer and ruffled the soft hair and feathers of the little pup.
"He's so beautiful", Svyn said, "Where did you find him?"
Saryn explained and breathed a sigh of relief. Once more she was certain that she'd chosen the right man to spend her life with.
Time moved on and Lussak grew up and changed coats to a stunning rust. Being such a laid back wolf, he didn't make much noise nor commotion. Usually being happy to lay in a sunny spot in the forests around the base of the mountains, where the couple had made their home. As for now, he had no need (yet) to seek out a companion or sire offspring. Life was good.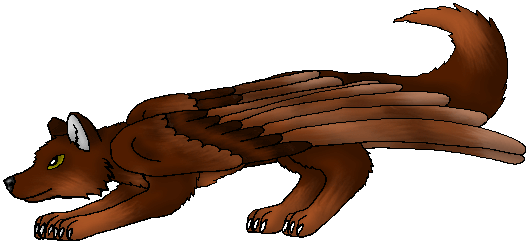 ~Story~
Yvander - Svyn - Saryn - Rygha - Sha'uny

Story continued in part 3 of Icelandic Kids
5. REINDEER HATCHING
text