ZOErsel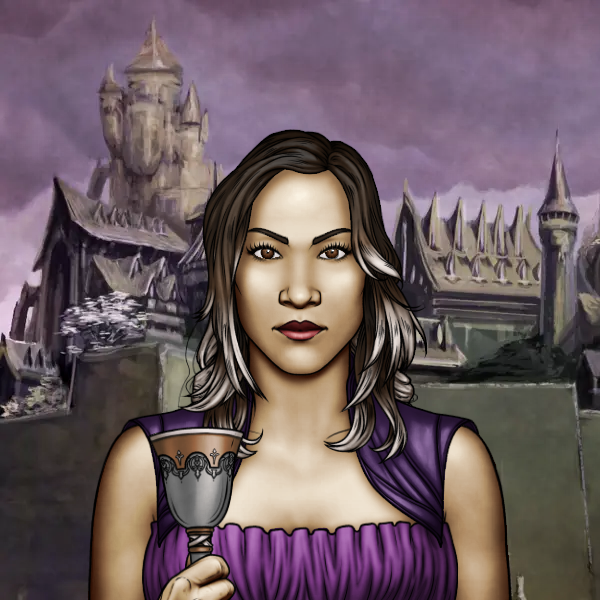 image made with Portrait Workshop
Name: Zoersel
Age: 23
Gender: Female
Description: Zoersel is a tall, slender woman with a bronzed skin and lithe curves. She has wavy dark brown hair that is lighter at the ends, a remainder of her time spent outdoors in the summer. Zoersel has slanted eyes, a wide nose and a pronounced chin. She often wears brightly-coloured clothes and though not as daring as Liesel's, she does catch quite a few eyes during her shifts.
Personality: Zoersel is an outgoing person who enjoys her work at the tavern. While she can be as loud as Gistel and can give any customer a stern talking-to, she isn't as course as the cook and knows when to act herself and when to let Beersel handle it. Zoersel is quite fond of alcohol and doesn't mind joining some of the customers so long as they pay for her drinks. If they expect her to get drunk on them, then they might be in for a let down as she can hold her liquor.
Homeworld; Gremyne
Family: Born to travelling merchants, Zoersel was brought up by her maternal grandmother who passed away a couple of years ago. Pinched for money, Zoersel took up Beersel's offer to work for him.
Bond: - from ???
~*~-*-~*~-*-~*~-*-~*~-*-~*~-*-~*~-*-~*~-*-~*~-*-~*~-*-~*~-*-~*~-*-~*~-*-~*~-*-~*~-*-~*~-*-~*~
Hatching
text
image
~*~-*-~*~-*-~*~-*-~*~-*-~*~-*-~*~-*-~*~-*-~*~-*-~*~-*-~*~-*-~*~-*-~*~-*-~*~-*-~*~-*-~*~-*-~*~
ADULTS
text
image
~*~-*-~*~-*-~*~-*-~*~-*-~*~-*-~*~-*-~*~-*-~*~-*-~*~-*-~*~-*-~*~-*-~*~-*-~*~-*-~*~-*-~*~-*-~*~
Back to Story - Lantessama Isle
Credits: Background from 1-background.com
Fonts used are called Castellar and Lydian