Beersel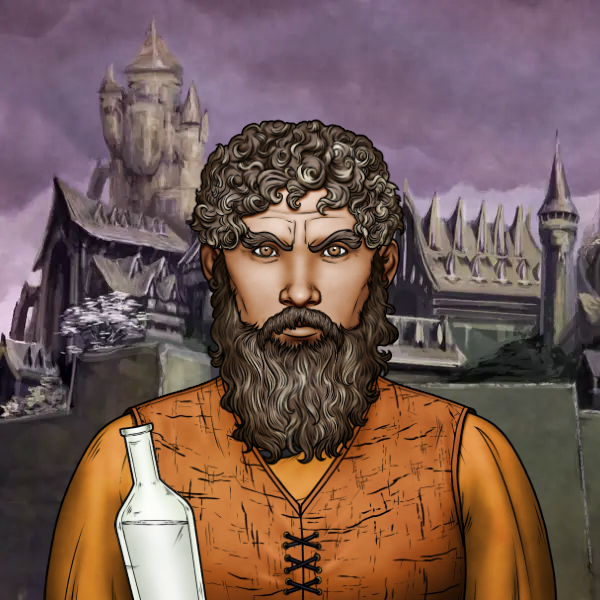 image made with Portrait Workshop
Name: Beersel
Age: 40
Gender: Male
Description: Beersel is a sturdy man with curly brown hair that's starting to turn to grey, a moustache and beard and thick eyebrows. All the hair gives him a gruff exterior and not many people willingly pick a fight with him. He looks older than he is but doesn't mind that. Beersel usually wears a simple shirt paired with a linen vest as he mans the counter.
Personality: Beersel is a quiet man, he understands that an innkeeper is someone who sees a lot of secrets and that keeping those quiet will prolong their life. He reserves the right to deny some people access, but will not question the actions of those he allows inside. He is pretty tough and is not easily scared/fazed by what he sees. Sometimes certain actions are needed that might not be entirely legal but as long as nobody gets hurt (much) he will not shrink back from them.
Homeworld; Gremyne
Family: Wife deceased, son Brakel. He sees the girls working in the tavern as his daughters.
Bond: - from ???
~*~-*-~*~-*-~*~-*-~*~-*-~*~-*-~*~-*-~*~-*-~*~-*-~*~-*-~*~-*-~*~-*-~*~-*-~*~-*-~*~-*-~*~-*-~*~
Hatching
text
image
~*~-*-~*~-*-~*~-*-~*~-*-~*~-*-~*~-*-~*~-*-~*~-*-~*~-*-~*~-*-~*~-*-~*~-*-~*~-*-~*~-*-~*~-*-~*~
ADULTS
text
image
~*~-*-~*~-*-~*~-*-~*~-*-~*~-*-~*~-*-~*~-*-~*~-*-~*~-*-~*~-*-~*~-*-~*~-*-~*~-*-~*~-*-~*~-*-~*~
Back to Story - Lantessama Isle
Credits: Background from 1-background.com
Fonts used are called Castellar and Lydian