LIESEL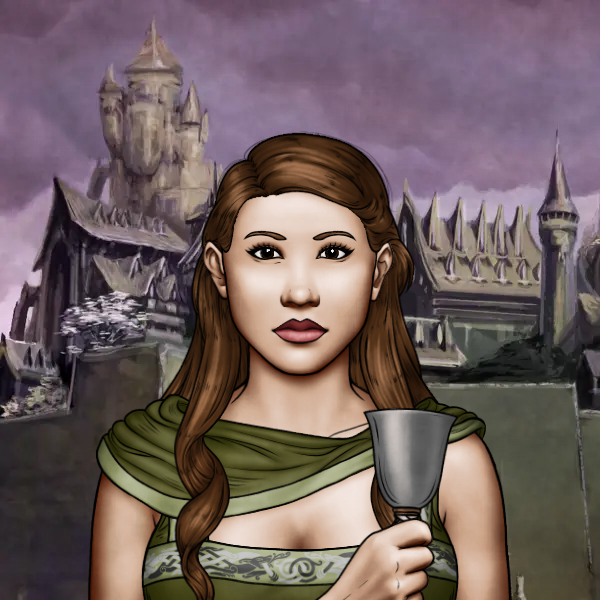 image made with Portrait Workshop
Name: Liesel
Age: 18
Gender: Female
Description: Liesel is a pale-skinned beauty with glossy brown hair, brown eyes, a small nose and generous lips. She has turned many a head since she started working at the inn. She doesn't mind showing a bit of skin and even indulges some of the customers with a wink or a playful pat on the shoulder.
Personality: Liesel could be thought of as a tease, but most of the clientele of the tavern know that her heart has been caught by the innkeeper's son. Some might think she wants to marry up in life and while marrying the innkeeper's son would certainly grant her stability, Liesel does find Brakel attractive. And while she can use all her feminine whiles with the customers, she's awfully shy with the true object of her love. Liesel spends most of her free time out in the town or (semi-stalkery) observing Brakel.
Homeworld; Gremyne
Family: impoverished landholders in one of the neighbouring towns. Liesel sends them some of her earnings.
Bond: - from Kyanos Weyr
~*~-*-~*~-*-~*~-*-~*~-*-~*~-*-~*~-*-~*~-*-~*~-*-~*~-*-~*~-*-~*~-*-~*~-*-~*~-*-~*~-*-~*~-*-~*~
Hatching
text
image
~*~-*-~*~-*-~*~-*-~*~-*-~*~-*-~*~-*-~*~-*-~*~-*-~*~-*-~*~-*-~*~-*-~*~-*-~*~-*-~*~-*-~*~-*-~*~
ADULTS
text
image
~*~-*-~*~-*-~*~-*-~*~-*-~*~-*-~*~-*-~*~-*-~*~-*-~*~-*-~*~-*-~*~-*-~*~-*-~*~-*-~*~-*-~*~-*-~*~
Back to Story - Lantessama Isle
Credits: Background from 1-background.com
Fonts used are called Castellar and Lydian