GISTEL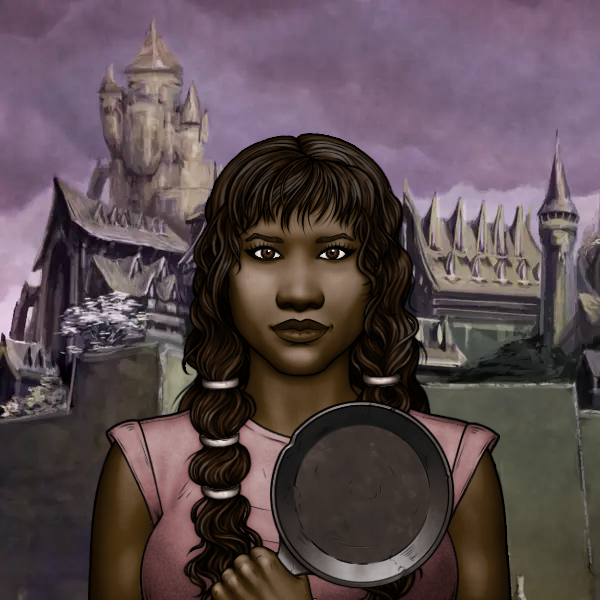 image made with Portrait Workshop
Name: Gistel
Age: 25
Gender: Female
Description: Gistel is a dark-skinned young woman with black hair, black eyes, a wide nose and a large mouth. Since she has a problem keeping that mouth shut, she usually works in the kitchen. She is a curvy, tall woman and usually wears clothes she can move around in. Oftentimes those are pants and simple shirts. When she's cooking, she dons an apron.
Personality: Gistel is not afraid of anyone and woe the man or woman who insults her. Beersel has tried to get her to act a bit more demure, but he has failed and has given up after Gistel turned 16 and showed promise in the kitchen. She likes making food, creating her own seasonings and sauces. Gistel hardly ever goes outside, preferring to enjoy her free time in the stables, caring for the horses.
Homeworld; Gremyne
Family: Was brought in as a slave girl but escaped and was taken in by Beersel when she was only 12.
Bond: - from ???
~*~-*-~*~-*-~*~-*-~*~-*-~*~-*-~*~-*-~*~-*-~*~-*-~*~-*-~*~-*-~*~-*-~*~-*-~*~-*-~*~-*-~*~-*-~*~
Hatching
text
image
~*~-*-~*~-*-~*~-*-~*~-*-~*~-*-~*~-*-~*~-*-~*~-*-~*~-*-~*~-*-~*~-*-~*~-*-~*~-*-~*~-*-~*~-*-~*~
ADULTS
text
image
~*~-*-~*~-*-~*~-*-~*~-*-~*~-*-~*~-*-~*~-*-~*~-*-~*~-*-~*~-*-~*~-*-~*~-*-~*~-*-~*~-*-~*~-*-~*~
Back to Story - Lantessama Isle
Credits: Background from 1-background.com
Fonts used are called Castellar and Lydian