Reptilians: Genster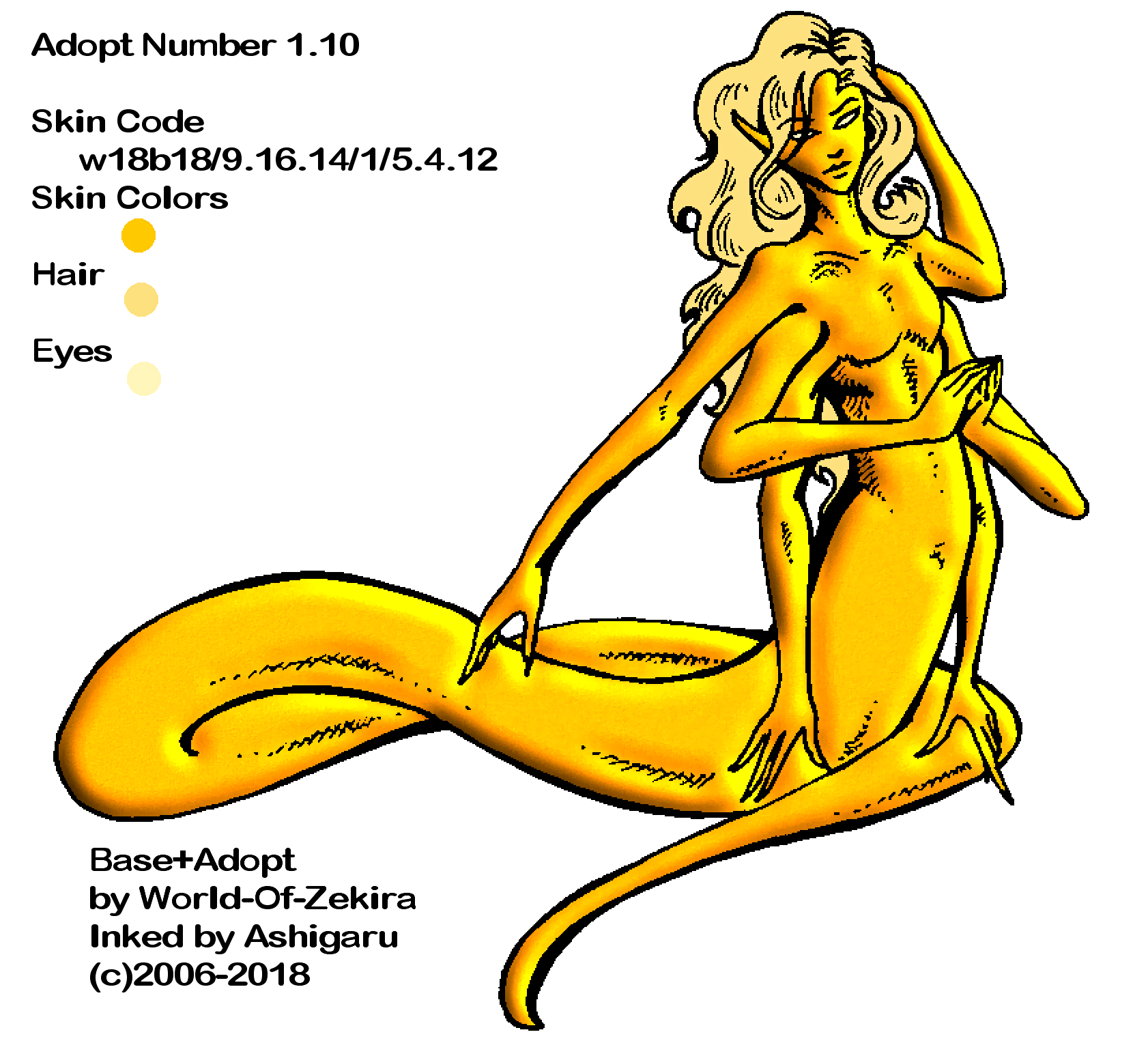 Genster was adopted at the World of Zekira
Original Stats page here.
Stats
Name: Genster
Nickname: "Shiney"
Age: Young Adult (Lifespan: 220)
Gender: Female/Hermaphrodite (semi fertile: can carry but also sire offspring)
Homeland: Kinar, Wo'ad/T'dal area
Training: Dragon Master
*~*~*
Description
Genster is a dazzling gold-yellow Naga with 6 arms and Tech-Elf pointed ears. Her hair has a silky texture. Her skin is shiny most of the time and can change both color and texture, allowing for dazzling displays and strong camouflage. If damaged, her skin will bruise and turn darker brown until healed. She is a desert Naga type, having no legs and a very long prehensile tail. Since she is deaf, she relies heavily on her twin-sister to communicate with the outside world. The two of them are strongly psionic and aware of one another at virtually any distance. They share emotions and thoughts easily. Genster also has a tendency to hyper-focus on her work and is also extremely overprotective of her projects.
Genster can eat just about anything but can only sustain herself on meat. She enjoys hot and dry climates.

*~*~*
Powers
Minor: Visual Camouflage, Dazzling Skin, Minor Flesh Shape (Dragon only)
Major: Pair Bonded, Heal/Harm Dragon/Animal
Special: Summon + Command Dragons (small, within 10 miles)
Advantages: manual dexterity, keen sense of smell, infrared vision
Mutations: Carries the Desert Dragon multiple tail mutation
*~*~*
Numbers:
Intelligence: 74 , Education: 60
Strength: 73, Health: 75, Agility: 84, Reaction: 83
Appearance: 79, Charisma: 59, Social Skill: 42, Aggression: 68, Sanity: 54, Courage: 50
*~*~*
Story - Story Continued
Gloed - Genster - Grash - Blad - Schub
Credits: all background images and reptilian pictures found with google.