DeWinvahO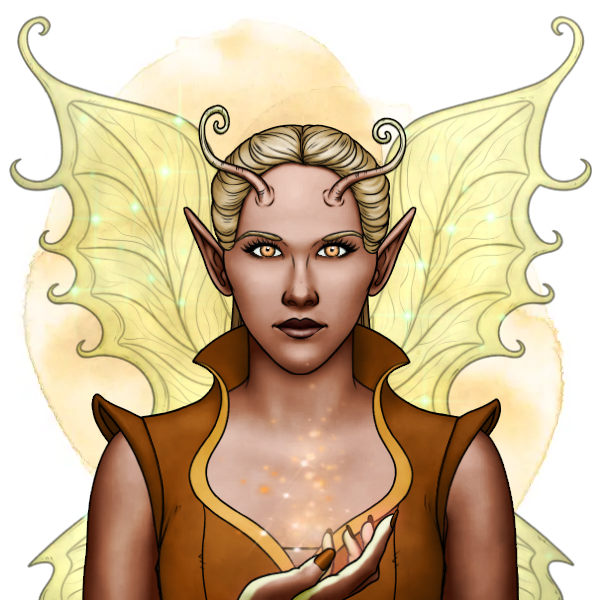 image made with Portrait Workshop
STATS
Name: De Wind vanuit het Oosten
Gender: Female
Race: demigod
Cardinal Direction: East
Colours: Yellow and Brown
Gift: the power to create sandstorms.
Description: DeWinvahO (Vaho) is all yellow and brown. Her skin has a deep caramel sheen, her hair is a rich golden blond and her eyes are a rich amber-like orange. She has soft yellow wings that remind people of autumn leaves. Her pointed ears give her an elf-like appearance, her antennae hint more at a butterfly.
Personality: Vaho is incredibly shy. She's afraid of meeting new people and tremendously awkward in social situations that don't involve her family (and even at those Vaho is usually the quiet one). So Vaho usually keeps herself hidden, her mother's gift of sandstorms helping her somewhat to shield her presence.
Origin: child born to the goddess Wind and the regular human Serdayn.
Bond: ?? from ??
________________________________________
STORY
Prequel: Read about the birth of the demigods and growing up in the special dimension their mother created. And learn just how Wind Chimes was the cause of the children of Wind ending up all across the Nexus.
Vaho looked around. She'd been at home. But now she was not. Brought on by her anxiety, specks of dust and sand started vibrating and some even flowed up in the air, ready to be let loose to protect the Eastern Wind. Vaho pressed herself to the wall of the buildings she didn't recognise. The smooth surface didn't object and led her gaze toward an opening leading to a larger road. She trembled when she saw others there.
More dust and sand rose up and Vaho was ready to run away when she realised she didn't know where she could even go. She was lost, alone and very far from home. And then someone coughed to draw her attention.
Vaho let out a scream and every speck of sand that had been levitated, launched toward the stranger who stepped back, bewildered.
"Excuse me, I was just wondering if you needed a hand..."
________________________________________
HATCHING
text
image
________________________________________
FLIGHT
text
image
________________________________________
Background from 1-background.com
Back to Lantessama Isle