ZwaLuw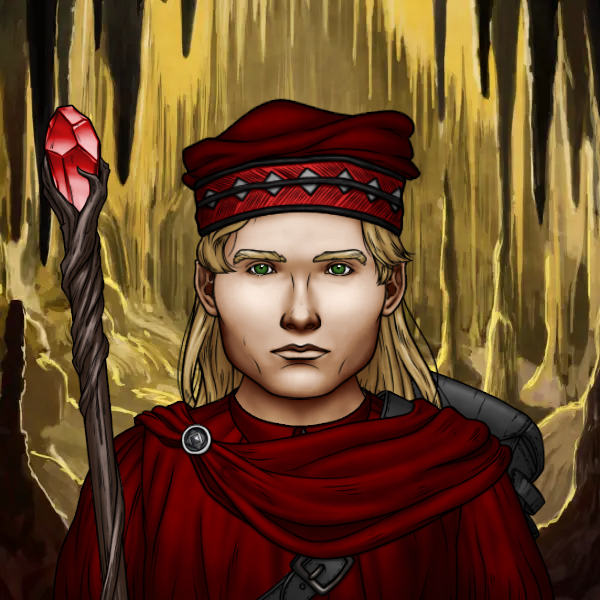 image made with Portrait Workshop
STATS
Name: Zwaluw
Gender: Male
Age: 21
Description: Zwaluw is of mixed dwarf-viking descend. He is smaller than most men in his family and regrettably also not as wide as the ones leaning more to the dwarven spectrum. His skintone is very pale, with bright blue eyes, a straight nose and blond hair. Zwaluw often wears red because it complements his colouring and it does look striking on him.
Personality: Zwaluw is pretty vain and self-absorbed. He works hard to look good and to get ahead in school. he's quite ambitious and hopes to take over the family. For that he'll need to do better than his sister, but she's a hopeless relic, preferring to spend her days in dusty libraries while Zwaluw prefers to be out among people, networking.
Skills: Staff-wielding sorcerer, mostly fire and light spells.
Hobbies: looking in mirrors.
Dislikes: His sister babbling on about stuffy topics.
Family: Born as second child to the Swanwhite family. He has one older sister (Zonastrild), the sibling rivalry is pretty strong between them and they often argue.
Bond: ?? from the Refugium
--°--°--°--°--°--°--°--°--°--°--°--°--°--°--°--°--°--°--°--°--°--°--°--°--°--
HATCHING
text
image
--°--°--°--°--°--°--°--°--°--°--°--°--°--°--°--°--°--°--°--°--°--°--°--°--°--
FLIGHT
text
image
--°--°--°--°--°--°--°--°--°--°--°--°--°--°--°--°--°--°--°--°--°--°--°--°--°--°--°--°--°--
[STORY] -~- [ZONASTRILD] [ZWALUW] [ZANGGORS] [ZILVERREIGER] [ZEEKOET]
--°--°--°--°--°--°--°--°--°--°--°--°--°--°--°--°--°--°--°--°--°--°--°--°--°--°--°--°--°--
Lantessama Isle
background from 1-background.com
Fonts used are Showcard Gothic and Lydian