ZANGGORS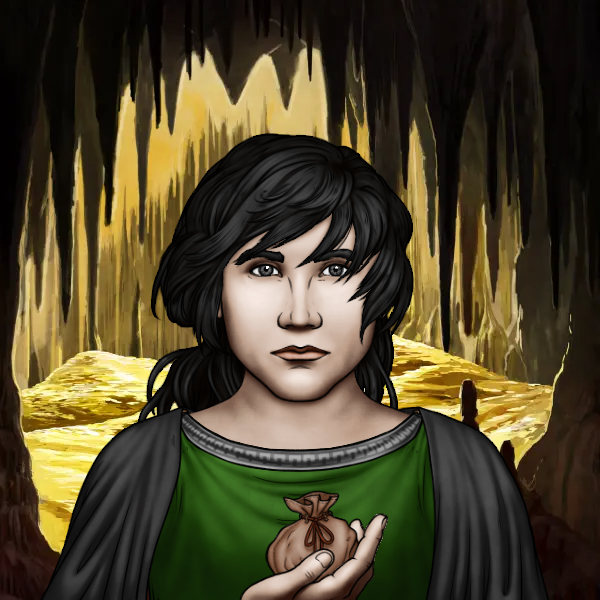 image made with Portrait Workshop
STATS
Name: Zanggors
Gender: Male
Age: 22
Description: A very pale, even sickly white, young man with raven black hair, a straight nose with flaring nostrils, and moody grey eyes. Zanggors is slender and clearly has some pixie blood running in his veins. That same heritage keeps him in shape because the young man hates physical exercise and prefers to just not move. He wears comfortable clothes, the colour of his house is green.
Personality: Zanggors is pretty lazy and easy-going, there is just little that grabs his attention and he much prefers sleeping, reading and watching other people do stupid things. Or cats, he does love watching cats. There's something about such a majestic, prideful creature messing up that makes him cheer up each time it happens.
Skills: Dust-based magic, mostly illusionary and minor healing. Singing.
Hobbies: Sleeping.
Dislikes: Having to get up and do stuff.
Family: Born as one of the younger children in the Sparrow family, he has little hopes of ever getting to the top. Zanggors doesn't mind. he's best friends with Zonastrild just because she enjoys reading in the library and doesn't ask him to move.
Bond: ?? from the Refugium
--°--°--°--°--°--°--°--°--°--°--°--°--°--°--°--°--°--°--°--°--°--°--°--°--°--
HATCHING
text
image
--°--°--°--°--°--°--°--°--°--°--°--°--°--°--°--°--°--°--°--°--°--°--°--°--°--
FLIGHT
text
image
--°--°--°--°--°--°--°--°--°--°--°--°--°--°--°--°--°--°--°--°--°--°--°--°--°--°--°--°--°--
[STORY] -~- [ZONASTRILD] [ZWALUW] [ZANGGORS] [ZILVERREIGER] [ZEEKOET]
--°--°--°--°--°--°--°--°--°--°--°--°--°--°--°--°--°--°--°--°--°--°--°--°--°--°--°--°--°--
Lantessama Isle
background from 1-background.com
Fonts used are Showcard Gothic and Lydian