The Sultans of Schwung
~Baahir~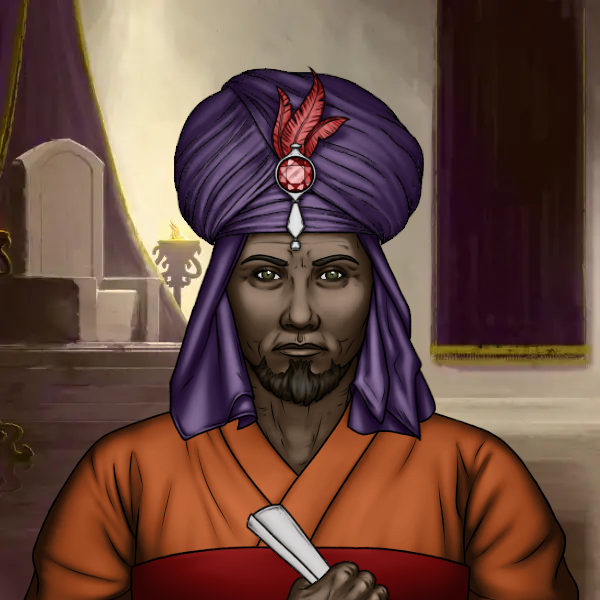 |*°*;*°*|*°*;*°*|*°*;*°*|*°*;*°*|*°*;*°*|*°*;*°*|*°*;*°*|*°*;*°*|*°*;*°*|*°*;*°*|*°*;*°*|*°*;*°*|*°*;*°*|*°*;*°*|*°*;*°*|*°*;*°*|
Stats:
Name: Baahir
Age: 59
Gender: Male
Title: Wasiti
Description & Personality: Baahir is a dark-skinned man with clear eyes, a straight nose and an overbote. His dark-coloured hair is hidden behind his turban and is kept short. He has a neat beard that he also keeps trimmed so as not to hinder him. Stature-wise he is nothing special and without his rich garments he would fade into the crowd. Despite his common looks there are few who would not recognise him when he speaks as his voice is distinct and warm.
Baahir has served the population of Schwung for a long time and has held onto his seat of power across several changes in leadership. His moderate stands and open mind have kept him in the good graces of plenty of Vezirs and he has often given advice to new members of the council.
Heritage and Bio: Baahir was born quite some time ago and was named by his parents in the hopes of gaining a dazzling and brilliant future. Some would say they got their wish though Baahir always states he couldn't have done it without the aid of many more people. These days he's the senior administrative officer of the government.
Pets: --
Bond: Copper Andavada Diemicana-Pariyani (m) from Nidus Asteri on Planet Kynn
|*°*;*°*|*°*;*°*|*°*;*°*|*°*;*°*|*°*;*°*|*°*;*°*|*°*;*°*|*°*;*°*|*°*;*°*|*°*;*°*|*°*;*°*|*°*;*°*|*°*;*°*|*°*;*°*|*°*;*°*|*°*;*°*|
Meeting
Andavada Diemicana-Pariyani returned with his two siblings and their Vizier bonds as he'd proposed. As soon as the copper court-asandus hybrid's feet hit the ground, he knew that he'd been right. The sun beat down, the desert seemed to stretch endlessly in all directions. But Anvada knew that this was just a first impression. Just beyond the horizon, hundreds of people lived, worked and played in villages and cities.
Ruya and Maram landed next to him on their bonds. Not much later, a man rode toward them and judging by his companions' reactions, it was not a typical servant. Andavada looked on with interest. The man was not the youngest. Nor was he particularly strong or commanding. In fact he appeared to be rather plain. But as the man opened his mouth and spoke, the most alluring voice sounded. His words concise and erudite with a slight note of humour.
"Welcome back, Wazir al-'Amala Ruya and Vezir al-Istishara Maram, I've been instructed by his esteemed highness Wazir al-Akbar Hakim to be on the lookout for you today. He knew you'd be arriving and wanted to see you as soon as possible."
"We will make haste then, Wasiti Baahir." Ruya answered.
Andavada shrunk to his human form, appearing as a slender, handsome youth with coppery skin and an unruly mop of red hair. Finally the elderly gentlemen seemed to be surprised. Clearly whatever dragons Hakim and his counsellors had brought home could not shapeshift.
"I don't mind if you two go ahead." Andavada told the others, "I'll come behind with Wasiti Baahir."
The title and name felt quite right as he uttered them, even in his lesser familiar form. The more time passed, the more Andavada was certain that although this was the first human he'd met on Schwung, that this man was to be his bond. Already the dragon felt the stirrings of unfamiliar memories within him, the soft exchange of ideals and morals. Baahir was cautious, courteous and intelligent. All traits that Andavada could appreciate. Moreover, he was unattached and well-liked by the people.
"Dear Baahir," Andavada said when the others had departed, "I'm certain you've been briefed about dragons and why the Vezir have gone in search to bond them."
Baahir nodded.
"What are your true feelings on the development?"
Baahir hesitated but seemed to sense that Andavada would know whether or not he was lying. A politician, even one as him that was a glorified librarian, knew how to bend the truth and how to skip over the less savoury sides of the truth. Baahir had wondered about the recent developments.
"I'm worried." he admitted, "The Waziri are so powerful and now they have powerful allies. If they continue to look out for the nation then I'm all for it, but if they fight among themselves they could so much more damage. The balance of power is a fine thread at best. Snapping it doesn't require much effort."
"I appreciate your honesty." Andavada told the politician, "How would you feel about having an equally powerful ally?"
"How so?"
"I have taken an interest in you. Together we can maintain watch on the others."
"I want to believe that won't be necessary." Baahir said reluctantly.
"But you're not certain."
"I'm thankful for your help." Baahir nodded.
|*°*;*°*|*°*;*°*|*°*;*°*|*°*;*°*|*°*;*°*|*°*;*°*|*°*;*°*|*°*;*°*|*°*;*°*|*°*;*°*|*°*;*°*|*°*;*°*|*°*;*°*|*°*;*°*|*°*;*°*|*°*;*°*|
Flight
Andavada pranced around the government buildings in his human form. Only a select few people knew he was actually a dragon. He wondered at times what the servants and officials thought of his sudden appearance. Were there some who suspected his magical nature? Or did they just think that he was a foreign official sent to be a hostage. Or maybe they suspected that he was a spy, that might explain why he never got a decent meal from the servants.
Spending so much time in his smaller form was getting to be a bit confining. Much to Baahir's relieve, the sultans seemed to be getting along and none of the bonded dragons were causing a ruckus. So maybe there was time to take a little vacation... to spread his wings.
But would Baahir want to come?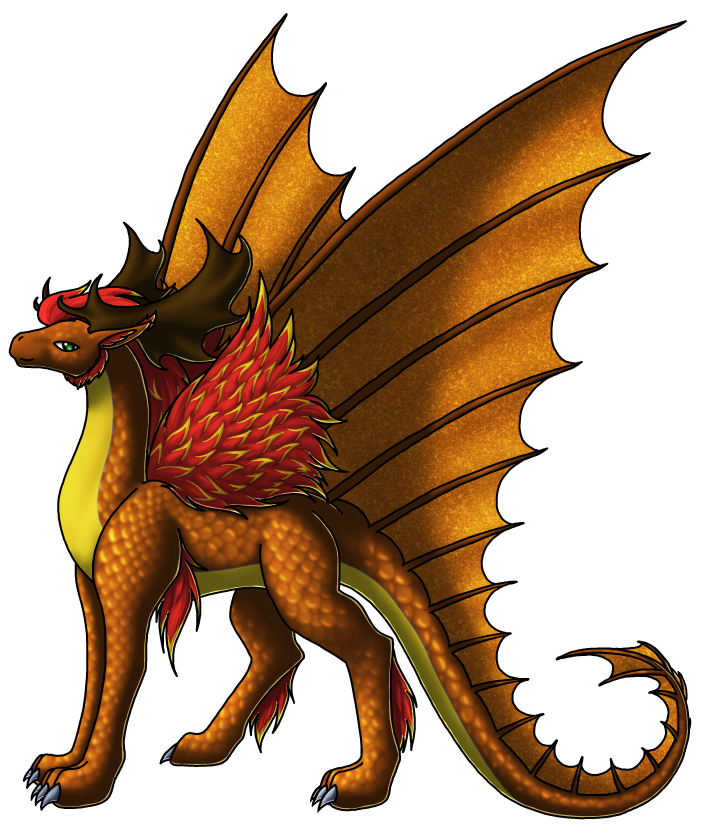 Stats:
Name: Andavada Diemicana-Pariyani
Meaning: Exquiqite (Kannada)
Gender: Male
Colour: Copper
Species: Court-Asandus Hybrid
Parents: Shajahanth x Comitero
Hide: not scaled but patterned leathery hide
Size: 10-14ft at the shoulder
Personality: Narcissistic, Observant
Abilities:
*Body-Heat Control
*Fire Breath
*Elemental Magic
*Shapeshifting (Human) - retains the dragon's natural colour palette
*Telepathy
*Teleportation
*Venomous Bite
*Verbal Speech
*Dread Pirate - Demoralize up to two creatures into becoming frightened of your presence.
|*°*;*°*|*°*;*°*|*°*;*°*|*°*;*°*|*°*;*°*|*°*;*°*|*°*;*°*|*°*;*°*|*°*;*°*|*°*;*°*|*°*;*°*|*°*;*°*|*°*;*°*|*°*;*°*|*°*;*°*|*°*;*°*|
|STORY|-;-*-;-|ASRA|-;-|FADIL|-;-|HAKIM|-;-|MARAM|-;-|NURI|-;-|RUYA|-;-|TAHIRA|-;-|ZIAD|
|*°*;*°*|*°*;*°*|*°*;*°*|*°*;*°*|*°*;*°*|*°*;*°*|*°*;*°*|*°*;*°*|*°*;*°*|*°*;*°*|*°*;*°*|*°*;*°*|*°*;*°*|*°*;*°*|*°*;*°*|*°*;*°*|
Lantessama Isle
Layout images found with google
.