The Sultans of Schwung
~Hakim~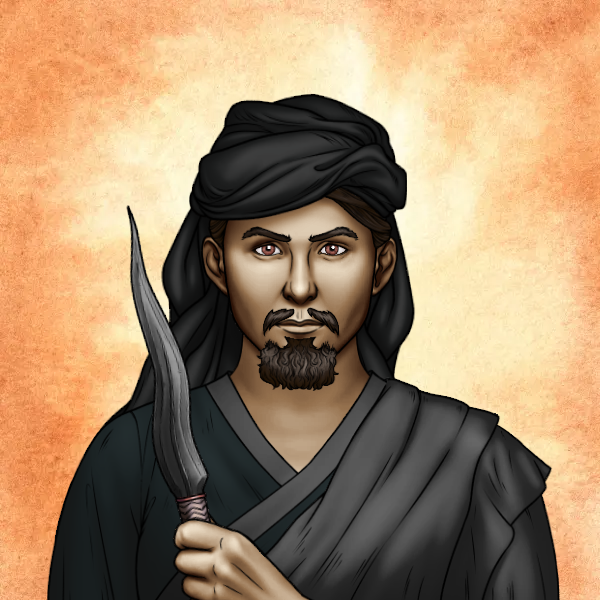 |*°*;*°*|*°*;*°*|*°*;*°*|*°*;*°*|*°*;*°*|*°*;*°*|*°*;*°*|*°*;*°*|*°*;*°*|*°*;*°*|*°*;*°*|*°*;*°*|*°*;*°*|*°*;*°*|*°*;*°*|*°*;*°*|
Stats:
Name: Hakim
Age: 39
Gender: Male
Title: Wazir al-Akbar of the North
Description & Personality: Hakim is a man of average height and build, with short black hair and well-trimmed beard and moustache. He values appearances and will strive to look respectable at any moment. He has light brown eyes, a straight nose and a tan complexion.
Hakim's name means "wise" and he has been brought up from birth to become the next prime minister of the waziri of Schwung. He has been schooled to work hard and to deny himself indulgence though he does enjoy the occasional glass of liquor or a tasty dessert. He enjoys in moderation and secretly fears loosening the reins of his rigid self-control.
Heritage and Bio: Hakim was born to the Northern Cities of Schwung, a privileged place with ample opportunity to learn and grow. Being born to the ruling couple, he was isolated for his protection and he only interacted with adults, mostly servants and teachers. He formed a special bond with a few of them, learning from them what it feels like to be loved and cared for.
Pets: Nijiri (f), a Pseudo-dragon from Treval Dragonry
Bond: Strawberry roan blanket appaloosa Eikthyrnir (m) from the Heimdall Laboratory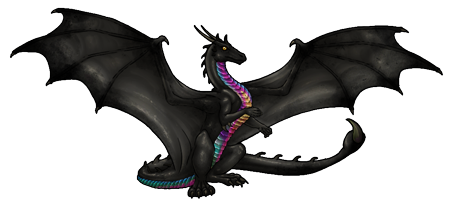 |*°*;*°*|*°*;*°*|*°*;*°*|*°*;*°*|*°*;*°*|*°*;*°*|*°*;*°*|*°*;*°*|*°*;*°*|*°*;*°*|*°*;*°*|*°*;*°*|*°*;*°*|*°*;*°*|*°*;*°*|*°*;*°*|
Hatching
The turn out for noulicorns had been larger than expected, with dignitaries from several worlds boarding the Heimdall just for a chance at a little orphan fawn. The fawns themselves had arrived with names of their own and burgeoning personalities. Some a few weeks (or months) older than the others, but all of them young enough to be altered in accord with Zar's wishes. Like firelizards into old worlders, Krum and her team had made the fawns need to bond. Turned it into an obligation. They'd been placed in cryopods after the change, waiting for the best moment to be bonded off.
Now, the lot of them were carted into the recreation room to face the line of waiting candidates. The hatching bay was of course in use for something else and throwing the fawns in the hatching bay with Vilifyss and their sedated kin was not something anyone had been heartless enough to suggest.
The pods opened simultaneously while a small legion of biologists hung over them, reading vitals and easing the little fawns to wakefulness. Spindly legs and broad ears peeped over the edge of the pods, then in a spill of knobbly knees the fawns wobbled onto the slick floors. They were tiny, most of them the size of small cats. A few bleated in their confusion. At first, they huddled together, nervously twitching ears and tails. Krum picked up the sound of hushed conversation between them - grogginess, uncertainty, questions about the strange itch between their ears.
The need to bond took over and a few of the bravest broke from the group, heading toward candidates.
All three sultans of Schwung had returned to the Heimdall after the pager and mingled together in the center of the crowd. Fadil had been the first to have been chosen. As Hakim and Nuri waited, the numbers of Noulicorn dwindled until only three fawns remained: A flashy okapi dun who'd been prancing up and down the line of candidates for some time, indecisive. And a pair keeping together near the pods - a rose bay shivering with fright and a bold strawberry roan that murmured gentle encouragement to her.
With a more insistent nudge, the roan directed the rose bay toward the audience.
"I'll stay with you until you pick," he whispered.
The rose bay nodded and shyly made her way to the candidates to bond when she didn't quite know why she would have to. Duty complete, the strawberry roan turned from the pair and marched directly for the sultans of Schwung.
"I'm sorry I made you wait, Hakim. I needed to help my friend first. I'm Eikthyrnir."
"That was a very good thing for you to do," said Hakim. "It's important to take care of your people."
Eikthyrnir nodded his agreement.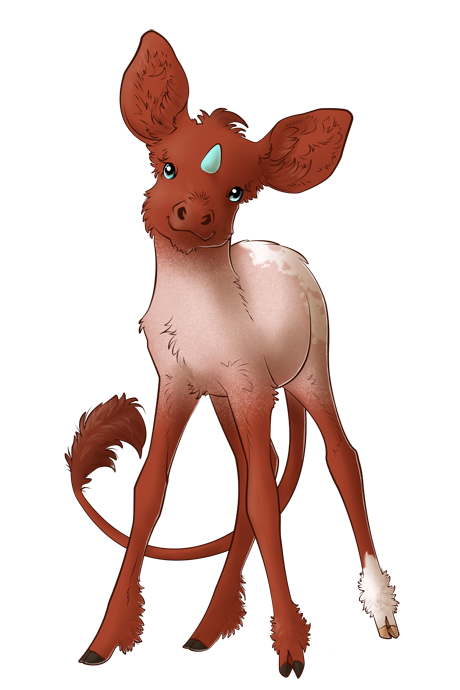 |*°*;*°*|*°*;*°*|*°*;*°*|*°*;*°*|*°*;*°*|*°*;*°*|*°*;*°*|*°*;*°*|*°*;*°*|*°*;*°*|*°*;*°*|*°*;*°*|*°*;*°*|*°*;*°*|*°*;*°*|*°*;*°*|
Adults
Hakim marvelled once more at the small horse that was now his companion. Though Eikthyrnir had told him they didn't normally bond and that they had been forced to do so, there was no undoing the bond that had been forged. Their temperaments and agendas matched as the Noulicorn wanted to help heal the wrongs in the world. And there was plenty they could do on Schwung. Eikthymir would be an amazing asset to have in the desert, being able to find water or evaporate a body of water to spread it across a region. while Fadil's Leukkipos could heal and sedate those in pain. And then there were Nuri's bonds. Hakim had been wary of them at first as he'd heard stories about the Xenos. He'd worried about Nuri being hurt during the hatching but once more she had surprised him with her tenacity and strength. And the powers of her Xenocorn were gamechangers indeed.
"But are they loyal?" he asked himself once more.
"I have talked to them and though Asclepiass is a loose canon, Cornaless certainly is not. I have yet to detect malice in him."
Besides, the noulicorn pondered, anyone who could work nature as the xenocorn did, could not be bad. Eikthyrnir had heard of the sacrifice of his fellow noulicorns. The Grandfather Tree had called them and maybe they had served their purpose to create good in the darkness of destruction. But still he mourned the loss of those who had joined him on this journey.
Sensing his bond's sadness, Hakim changed subjects:
"We also need to find a way home. Preferably arriving on Schwung only a short time after we left. I've heard such things are possible."
"Asking passage on a ship won't help you then."
"We need one of the dragons or mages to help us."
"Some will be sympathetic to our cause. Offering them some help should suffice."
Hakim nodded and went to inquire.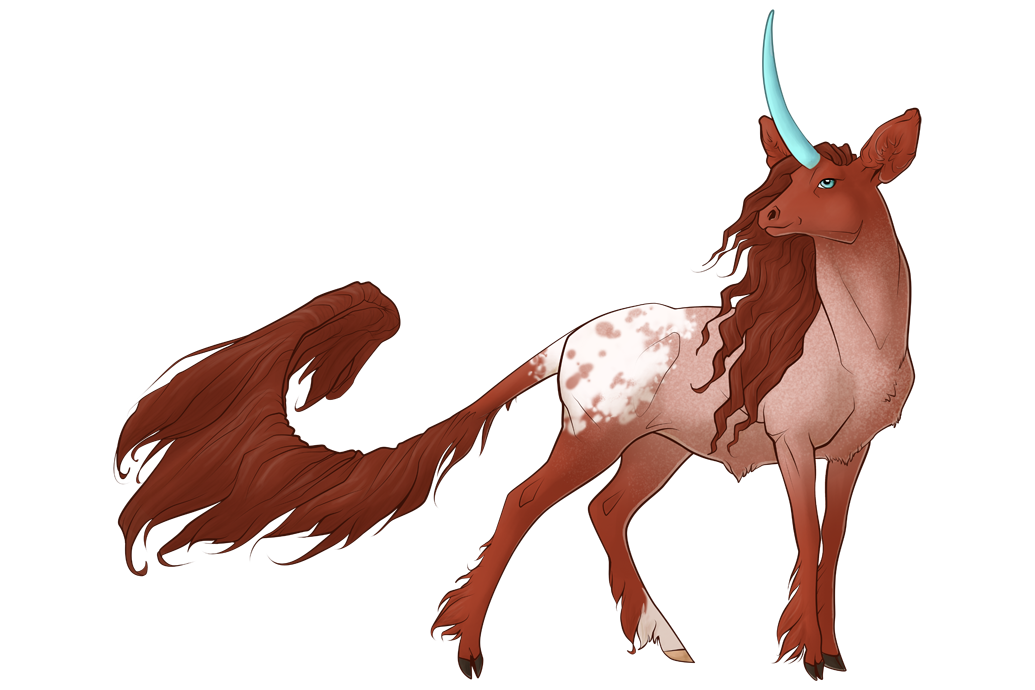 Stats
Name: Eikthyrnir
Gender: Buck
Colour: Strawberry roan blanket appaloosa
Genotype: AA ee bbd Pp RR nLp PATN2PATN2
Adult Height: 2'9" at shoulder
Adult Git: Aqua
Abilities at Birth:
*Verbal Speech
*Telepathy (bondmate only)
Abilities at Maturity:
*Spillway: The user evaporates water from a flooded area
*Douse: The user can find sources of water, even if they are deep underground.
Personality:
Patient and pondering, Eikthyrnir likes to contemplate all angles of an action before he makes a decision. He's deeply aware of consequences and wants to minimize harm as much as he can. He cares for people, although he rarely shows his affections. He's steadfast and resolute, ready to speak up for the voiceless. He wants his life to mean something, to make a difference for those around him. Eikthyrnir is supportive of his bond and follows in his footsteps of moderation and self-control.
Background:
One of the older fawns taken by the Heimdall, Eikthyrnir chose to leave with his stonesmith mother, rather than remain at Homewood with his father and siblings. He wanted to do his part for Grandfather Tree. When he arrived at the Heimdall he felt nothing but betrayal. Everything he thought he knew was wrong. He took to caring for the other fawns and trying to make the best out of a terrible situation. He wants to create real change in the world, however he can.
|*°*;*°*|*°*;*°*|*°*;*°*|*°*;*°*|*°*;*°*|*°*;*°*|*°*;*°*|*°*;*°*|*°*;*°*|*°*;*°*|*°*;*°*|*°*;*°*|*°*;*°*|*°*;*°*|*°*;*°*|*°*;*°*|
|STORY|-;-*-;-|ASRA|-;-|FADIL|-;-|HAKIM|-;-|MARAM|-;-|NURI|-;-|RUYA|-;-|TAHIRA|-;-|ZIAD|
|*°*;*°*|*°*;*°*|*°*;*°*|*°*;*°*|*°*;*°*|*°*;*°*|*°*;*°*|*°*;*°*|*°*;*°*|*°*;*°*|*°*;*°*|*°*;*°*|*°*;*°*|*°*;*°*|*°*;*°*|*°*;*°*|
Lantessama Isle
Layout images found with google
.