Alternate Story - Serdayn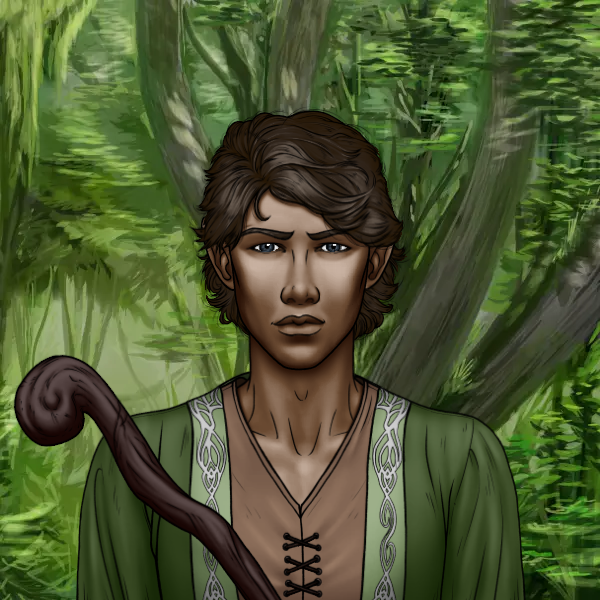 image made with Portrait Workshop
STATS
Name: Serdayn
Gender: Male
Race: Human (not quite alive, not quite deceased)
Description: Serdayn is a simple man, of average height and build with curly dark brown hair, a brown skintone, straight nose and brown eyes. He isn't rich, but lives a full life, using everything he finds to sustain himself. He wears simple clothing.
Personality: Serdayn is a simple man, he has very few wants or needs and is simply content to live his life amidst nature. He is friendly and quiet and usually gets along with the people he meets. He is not wealthy enough to be a target for robbing neither poor enough to deny people in need help/shelter.
Short history: Serdayn lived in the forest and lived of the land. He'd never believed that love would find him, though he had hoped and prayed to that particular God for it's blessing. And somehow Serdayn was blessed to fall in a mutual love with the Goddess of wind. But alas, the gods are forbidden from meeting with humans and some other gods (that have quite a thing for the beautiful goddess) conspire Serdayn's demise. Serdayn stumbles into their trap and falls on some jagged wood, losing his life. But he doesn't die completely, the shadow of the eagle that Wind has given him, manages to erase part of the curse. He now faces imprisonment in the place that is both Here and After and can only do his best so his love, in the shape of the shadow of the eagle, will reach Wind and tell her that he is still around somewhere.
Bond: ?? from Kyanos Weyr
________________________________________
STORY
Prequel: Read Wind's story to know what happened before. Especially chapters [1], [2] and [6] are important.
Serdayn took hold of a shadow and once again had every fiber in his being focus on his love for Wind. One day he'd find the right shadow in this godforsaken place and Wind would feel his presence. It seemed like years had passed like sand rushing down an hourglass but he'd never grown hungry nor thirsty. He vaguely remembered walking in the dark, heading home after work. Then a sudden pain in his chest and a burst of power as a winged shadow had rushed through him.
And then Serdayn had been here. In a world of shadows. Some of them seemed eerily close to humans, others were less shapely, more fluid, some were downright frightening. The shadow of the eagle had flown away, but sometimes Serdayn could hear it's call.
Serdayn grabbed hold of every shadow that even remotely looked like it could be a bird, or even those that were roughly the right shape. He sent them his love. Most remained unimpressed, some seemed to at least appreciate the gesture as he'd gotten a few hesitant caresses in return. But none had been right, none had resonated with his love.
That is until he absentmindedly brushed against a very quiet, almost plaintive shadow that crouched in a corner. Despair was something Serdayn could understand now and he shared the best memory of his life with the shadow, that last day with Wind where they had proclaimed their love.
Suddenly the shadow perked up and in a flash, the sky turned bright blue for a moment and a fresh breeze lifted the dust of this place that was neither Here nor After. Serdayn wondered if the shadow could leave, but it seemed reluctant to do so.
"Go." he urged it, "If you're free I've done some good. If you can bring her to me, we'll both be saved."
Time dragged on and Serdayn sometimes wondered if he'd dreamed of finding the eagle's shadow. But he could not abandon hope, so he waited, and searched and sometimes rested. Until the day that a loud roar ripped through whatever space he was occupying. The shadow seemed to tear and then there was lightning in a red sky.
Rainbow eyes blinked and patterned wings stretched. And then Wind was with him. Her porcelain white skin and blue hair had not changed a bit, her face had maybe lost some of it's innocence, but having softened despite knowing the sadness of loss.
"Serdayn." she sobbed, her voice cracking with emotion.
"Wind." he whispered back.
"I'm so glad I found you. I'll take you home."
Home ended up being a small world hidden in the pleats of space where Wind had born and raised their children. Children. 5, or 6 depending on whether you counted bodies or minds, no less. And with their mother's divine nature, they were already grown though Wind had assured him that less than a year had gone by since he'd fallen in the trap the other gods had placed for him.
And that was maybe something that troubled him. He'd never been one to be greedy or difficult. But hiding in a dimension, away from all that he'd known, even if it was with the love of his life and their children, it all just felt a bit suffocating. And so, he'd been feeling more and more down as the days passed. There were no other people close by, there was no work to do, there were hardly roads to travel as his love and their children could fly.
"So.... just fly." Wind's dragon, Ruby Lightning Ktisztinath said.
"I can't fly." Serdayn sighed.
The red dragon cocked her head and did indeed spot the absence of wings. She'd become too used to having a bond that could fly by herself, but most humans from her home planet had not been able to fly. But there was a cue for that:
"Then, just get a dragon."
"How?"
Ktisztinath looked around and then grinned, "I'll take you somewhere with a clutch waiting."
________________________________________
HATCHING
text
image
________________________________________
FLIGHT
text
image
________________________________________
Background from 1-background.com
Back to Lantessama Isle