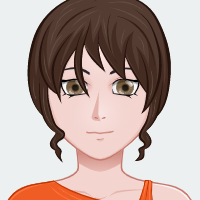 WINNY

Name:
Winny (Winifred)
Age:
16
Gender:
Female

Description:
Winny is a young girl of average build. She has a pale complexion, dark brown hair that she usually keeps tied up, and soft brown eyes. She likes wearing bright clothes that flow and rustle.
Image from: Avatar Maker
Behaviour:
Winny is a bit unsure as the youngest member of the group. She's still looking for her own sound and experiments a lot to find it. There are times she overanalyses. She is a calm and quiet girl, with a tendency to dream.

Studying:
Harper - Music - Flute
Hobbies:
Fashion and clothes, Design.
Pets:
--

Family:
Mother (Annaria) and Father (Frederic), older brother (Jonathan).
Winny comes from a loving family. She was supported in her passion for music from a young age on and allowed to study at Remyndal Hall. If she fails she will be welcomed back home where she could also join the family business (tailor shop).
Home:
Marillian Hold

image

THE ??? DRAGON

Name:
--
Gender:
--

Description:
--
Behaviour:
--

Hatched at:
???


Lantessama Isle