Weather at Acicade had been pleasant. The sun's rays were getting warmer, the trees had started sprouting new leaves and just about everyone in and around the castle was feeling the blessings of the coming spring. It was in these promising times that Forest Waikiki's clutch hatched and that the aspirants were called to the deep cavern. The sheltered room with one wall completely made of glass-in-lead was awash with colours as the sun shone through the different coloured panes. Stinga and Phiol, knights to the two draks that ha parented this clutch, stood outside the doors, guarding the mother and her draklings. Zoriyn, the sire of the clutch, seemed calm but his eyes scanned everyone who entered. But the dark mud drak needn't have worried as no strangers appeared to be present.
The aspirants were guided to a small space in front and to the side of the benches for the spectators.
Forest Waikik had announced four eggs, but when she walked out, 6 draklings followed her. In the bright light of the day the colours of the draklings weren't a mystery. Green and Brown colours were prominently present but among those a single day drakling stood out. The playful male couldn't contain his excitement as he swooshed right past his mother and headed straight for his knight, a female drak with unusual colouring. A plant male followed suit.
Waikiki then urged her first daughter forward. The small forest drakling was slender and flexible and seemed to be a bit shy. Waikiki announced: "Foressst Comynki, daughter dear, learn to be ssstrong and confident and to enjoy life."
The small forest scampered toward Tess, who dressed in bright clashing colours seemed to have all the confidence the little drakling lacked.
"You ssseem nize." Comynki told her.
"I have yet to develop a taste for roasted drakling." Tess quipped before she patted the drakling on her head and said: "I'll keep you safe, no worries."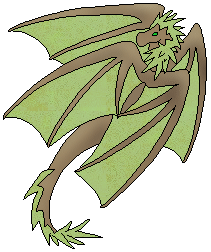 ~°~°~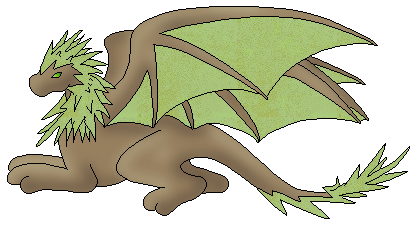 Tess and Forest Comynki (f) - Stinga and Forest Waikiki (Knight & Judge Training)
~°~°~
Back to Story