Kakera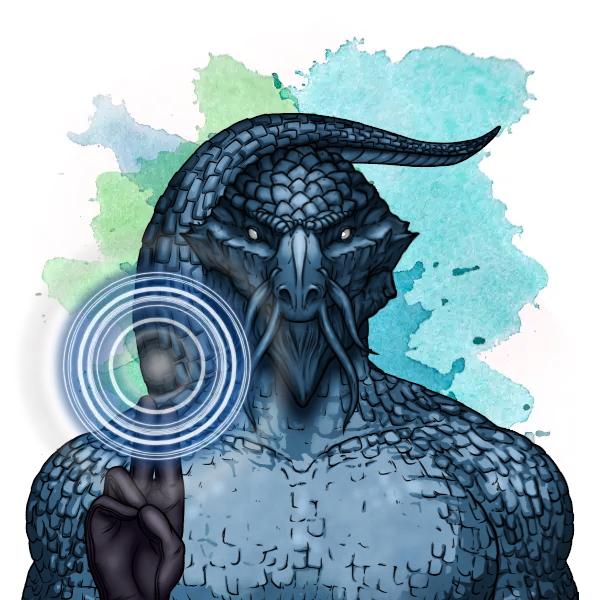 image made with Portrait Workshop
STATS
Name: Kakera
Age: 25
Gender: Male
Species: Anthro-Nothosaur
Class: Mage
Description: Kakera is sturdily built reptilian humanoid with a long body and tail. His body is covered in tough blue scales from head to tailtip. His face is broad with a short snout and four whiskers. His eyes are hidden deep in his skull and gaze cautiously into the world.
Personality: Kakera is a leader at heart. he loves to take charge and tries to stay calm at all times, someone others can rely on. He aims to become great at both physical and magical means and trains a lot. He can come across as someone authoritarian and blunt. He does want to do right but usually keeps his eye on the greater good and sometimes forgets that not everyone does the same.
Skills: Kakera can create force fields made by compressing air. He is also a strong and agile fighter.
Hobbies: He doesn't have much time for hobbies as he's mostly training.
_°'.o.°'-°'.o.°'_°'.o.°'-°'.o.°'_°'.o.°'-°'.o.°'_°'.o.°'-°'.o.°'_°'.o.°'-°'.o.°'_
HATCHING
The announcement that the Mermay Mini Frenzy was hatching came during one of the many events the Refugium had organised to entertain the waiting candidates and sponsors. About half the spectators and several members on either side of the hydroball court scrambled to get to where they needed to be, leaving the rest of the people to either follow to watch the big event or go home.
The hatching grounds were abuzz with more activity than usual. Only a few clutch parents were visible above the surf; the glenn dragon mother carefully guarding her nest of eggs, wreathed in seaweed and sat between the crags of a rocky outcrop. The asandus mother and her fiery mate, chasing around their clumsy-footed liveborn offspring as they nagged Zeskod for extra treats from the feeding tables. The other parents appeared as silhouettes or bobbing heads just above the surface of the water.
Though the parents were different species and had laid eggs at different times, somehow the hatchlings inside knew that the time was there to hatch or be left behind. One after the other the eggs started rocking as the race to find the optimal bond or sponsor began.
The largest of the octo-wheke's was the last to emerge from his egg, unfurling a mass of teal-blue tentacles and striped wings. He stretched as he arrived and quickly regarded his surroundings; finding all the shells of his siblings abandoned around him.
:: There's no shame in being last :: rumbled Chaythlis.
:: Someone's got to be :: the hatchling replied. :: I think I know where I'm going. ::
He darted toward the group of nothosaurs, spotting a single dragon among them. For now. But leaderly Kakera remained without a dragon.
Well, young Kra was here to fix that!
:: I'm sorry I took so long to get to you, Kakera. I needed to make sure I was making the right decision. ::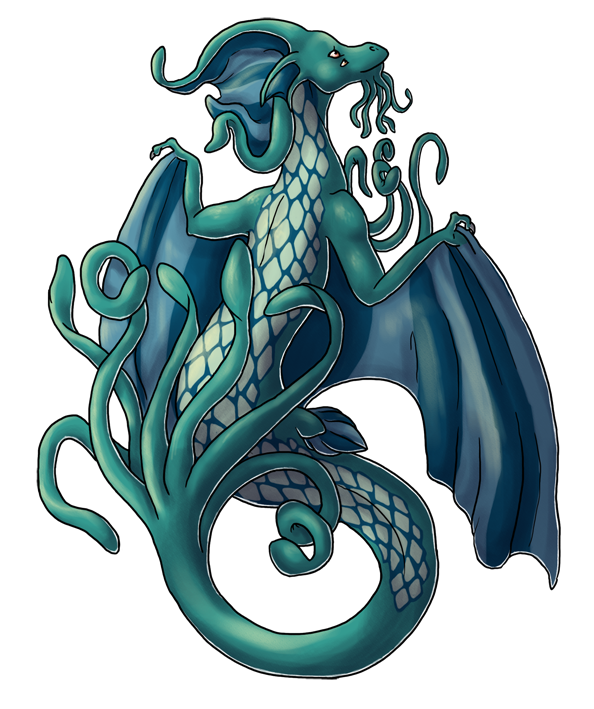 STATS
Name: Kra-Anyaythlis'Refugium
2nd Name: Breaks the Crashing Waves
Gender: Male
Species: 1/2 Wheke-Ika, 1/2 Miirusian Octodragon
Adult Length: 82'
Color: Teal-Blue
Abilities: telepathy, underwater breathing, water magic, teleportation, echolocation, gravity manipulation, ice magic, sympapthetic link
Personality: The sturdy, dependable Kra is an excellent second-in-command for the leaderly Kakera. He is adaptable, obedient, but clear-headed enough to point out repercussions in Kakera's plans when his bond fails to see that the means might not justify the ends. Kra is all about minimizing damage and keeping people safe. He's not over cautious, but he does believe in staying safe and mapping all dangers before taking action. Kra is also flirtatious and charming, he enjoys playing the hero and impressing onlookers.
_°'.o.°'-°'.o.°'_°'.o.°'-°'.o.°'_°'.o.°'-°'.o.°'_°'.o.°'-°'.o.°'_°'.o.°'-°'.o.°'_
ADULTS
Kakera worried. His dutiful mind told him to return home, to finish his education and to do all the things that had been mapped out for him. He'd been on his way to graduate head of the class, to find a worthwile job, get a mate and then live his life to the best of his ability. But with that one small decision, his plans had taken a deviation. He could still return to the path he'd been on before, but did he really want to when the scenic route proved to be so much more amazing?
"I will follow you." Kra told his bond, "I'm certain we'll do well wherever we end up."
"And that's just it." Kakera replied, "I feel like I could do so much more here. I feel like a big fish who just got out into the ocean and has all the room to grow and get even bigger."
"I don't think that's how the saying goes...." Kra said but the sentiment got lost to a deaf man's ears.
"How would you feel about staying here at the Refugium for now and maybe after a while boarding one of the ships, work our ways up to captain?"
"Do they even have aquatic space ships."
"If not then I'll be the first to design one!" Kakera vowed.
_°'.o.°'-°'.o.°'_°'.o.°'-°'.o.°'_°'.o.°'-°'.o.°'_°'.o.°'-°'.o.°'_°'.o.°'-°'.o.°'_

[STORY] * [ECLISSE] [KAKERA] [ODLAM] [SCHERF] * [VIPANDE]
_°'.o.°'-°'.o.°'_°'.o.°'-°'.o.°'_°'.o.°'-°'.o.°'_°'.o.°'-°'.o.°'_°'.o.°'-°'.o.°'_

Lantessama Isle
Background from 1-background.com