Welcome to Wo Yao Fei Castle!
On a late summer night, when they were back together after pairing draks themselves, Tarsalia and Hubero decided to stay on Icarus, and start a castle of their own. They chose a rather large isle in the East of Icarus.
And now, when it is finished, with its pearly white towers and orange banners on top of them, both Tarsalia and Hubero are very happy with it.
Now they are waiting for aspirants to come, and fill the Armada's. They will be happy to take young and not so young aspirants in their home.
We hope that you like your stay in our castle, and that you will come visit us again soon.
| | |
| --- | --- |
| 21/08/2009 | Wo Yao Fei castle will no longer accept any aspirants. You can still use the first-generation draks for fun name-endings and of course the pets! |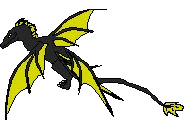 Night Drak. You would get a Night Drak. You are
serious, thoughtful and very quiet, though you
are very intelligent. You would make a good
Armada Leader.

Which Icarus Drak Color Would YOU get?
brought to you by Quizilla