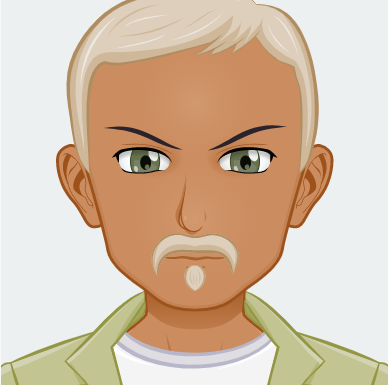 YVESS

Name:
Yvess
Age:
26
Gender:
Male

Description:
Yvess has a tanned complexion, blond hair with sunny highlights that he keeps short and he also sports a moustache and small beard. He's known for his piercing gaze. His eyes are olive green.
Image from: Avatar Maker
Behaviour:
Yvess knows how to make the students follow his rules. One angry look and they're tense and ready to oblige. Yvess is a real outdoorsman. He enjoys tracking and hunting, not always killing his prey. He's dependable and a real help in dire situations.

Job:
Journeyman Hunter - Tracker
Hobbies:
Exploring the forests
Pets:
--

Family:
Yvess is courting a lady, but he's quite secretive about her.
Home:
Remyndal Hall

image

THE ??? DRAGON

Name:
--
Gender:
--

Description:
--
Behaviour:
--

Hatched at:
???


Lantessama Isle