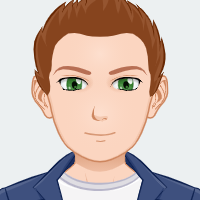 RONNY

Name:
Ronny
Age:
17
Gender:
Male

Description:
Ronny is a tall young man with reddish-brown hair, bright green eyes and a light complexion. He has rather large ears but doesn't let that cramp his style. He gives of a confident air.
Image from: Avatar Maker
Behaviour:
Ronny is quite popular among the female students. He's cool and confident, with a natural rhythm in his step and a devil-may-care attitude. He likes to find his own way and do what he thinks is the best thing to do. He almost never listens to advice.

Studying:
Harper - Music - Base
Hobbies:
Running, Riding/Racing runner beasts
Pets:
--

Family:
Father (Larry), Mother not in the picture. No siblings.
Ronny's mother left when he was still a pre-teen. He never saw her again. He was raised by his father and paternal grandparents. Some say he got his free spirit from his mother. Others see his father in his stubborn streak. His father works a handyman or mechanic.
Home:
Marillian Hold.

image

THE ??? DRAGON

Name:
--
Gender:
--

Description:
--
Behaviour:
--

Hatched at:
???


Lantessama Isle