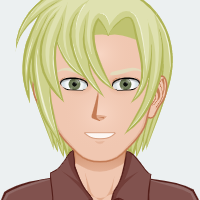 BRIAN

Name:
Brian
Age:
18
Gender:
Male

Description:
Brian is a handsome young man with shaggy blond hair, grey-green eyes and a smile that is permanently fixed on his face.
Image from: Avatar Maker
Behaviour:
Brian is outgoing and flirty. He likes to give compliments and to be in the company of women. He usually doesn't take it too far but every now and then he breaks a heart.

Studying:
Farming
Hobbies:
Partying, Going out.
Pets:
--

Family:
Brian is the only son in a house full of women. As such he has a good understanding of the female mind. His mother raised him right and his 2 sisters knocked in whatever his mother couldn't.
Home:
Eillan Hold.

image

THE ??? DRAGON

Name:
--
Gender:
--

Description:
--
Behaviour:
--

Hatched at:
???


Lantessama Isle