A dark night, mist woven into the large trees. A full moon shining bravely into the night.
A scream far away in the distance. A girl, long blond hair, blue eyes and a white dress, was stumbling towards the shining moon. A scared look in her eyes. She was followed by something. But she didn't know what. She was to scared to look behind her.
She wanted to get into the moonlight so that she would be safe.
She came near the trees where a single bird was waiting patiently. She looked up and saw that the moon had turned into this little bird. It was an owl. It had bright yellow eyes that were looking at the girl. She was still stumbling to the with owl. She came near it, but then she wish she hadn't. It started to laugh as a man. She was scared of its laughing and turned away from it, running in the other direction.
She was so scared.. 'Help me!' she screamed but there was nothing there. Absolutely nothing, not even the sound of the owl.
She stopped for a moment, to tired to go on. She heard a soft sound. She couldn't place it, but she got some new energy. She ran and ran. Hoping that she would soon find some help.
She saw some lights.. Two little dots in the distance. She started to run to them and the lights came closer.
But suddenly she couldn't move anymore. In horror she watched how the train came closer and finally making a stop to this horrible place.
The girl was lying still in her bed, her eyes open in total fear. Her eyes weren't seeing anything. A dark shade was looking down on her with a grin on his face. He looked down at that blond stupid girl. He hated these girls. They were so… irritating. Those girls were better used for sitting down and smile. They should never open there eyes.
He looked around, her room was pink. He hated the colour pink.. Why did they ever invent this colour? He wondered.
He bend down and kissed the girl on her mouth. 'Thanks for being blond.'
he turned away and left in the night.

.

His name was Mark. But he called himself Hypno. He was tall and very skinny with raven black hair that had a will of his own. He entered in a girls dream and presented himself as a white owl. They were all the same.. Running and running, scared of the nothing behind them. And then he would kill them in their dream, and you know if you're killed in your dream, you're killed in reality. He had first learned the skill to enter dreams when he was 15. He had learned it from an outsider named Hipnose. Hypno had named himself after him. He was a great teacher.
Hypno had first entered dreams of girls who would do anything for him. He liked that time. But then, at the age of 20 his whole life made a turn.
A girl, blond with her brain drained away from all the chemical products. Hypno hated her from the moment he saw her. She began to flirt with him and he felt dirty.
That night he entered her dream as a white owl. He picked her eyes out and made her suffer slowly. Since that night he would go after brainless girls and kill them.

Tonight would be the same. He wondered around on the streets looking at girls.
There was a girl. She looked pretty brainless. He was about to make his move when he heard a voice in his head. 'there is no time for that Hypno.. Come to me and I promise you that we will kill more brainless people.' Hypno let the girl pass, interested in that voice. It sounded powerful. But he wasn't sure he could trust it.
The voice said again: 'Come to me. Trust me white owl. People will fear us!'
How did he know about the owl? His trust of the voice increased. How would it be if people feared him? No more brainless people.
He smiled by the thought. 'How?' he asked in his mind.
'the ally…' Hypnos stood up and walked outside. He looked around and saw a blue vortex. He didn't look back, he was a shadow in this ally. He disappeared in the night and the vortex.

.

He came out of the portal looking around him. He saw a snake shaped worm slithering around and around a cave. He wondered what the thing was. It seemed a bit evil.. But not as evil as that voice inside his head.
'Come closer... Into that cavern yes... I..' The voice stopped when a man came towards him. To bad it wasn't a brainless girl, he would have killed her with all the passion he had in his body.
'Welcome on Lantessama! I'm Lucas. I can see you're willing to be a candidate for our Halloween clutch. The man smiled at him as he mention the clutch. It seemed he was proud of the clutch.
The voice said: 'Follow this man.. He will guide you to me.'
'Yes I want to be a candidate.' Hypnos said.
'Follow me.. You are a bit early, but we will give you a room' Lucas walked into the cave. It was dark and bats were hanging from the ceiling.
Hynos looked over the eggs. There was one egg that drew his attention.
'Yes I'm in here. I will be with you soon!'

.

It was late at night and Hypnos felt that it was near hatching. They were all called into the cave and there they had to wait. Hypnos didn't care for the other eggs. He only looked at one egg. That egg where his dragon was. It was time! His egg began to crack and then a dragon that looked evil from the moment she had left her shell with blood red eyes, a black body and carrot-orange hair slashed around violently with her wings. She bugled when a few candidates jumped back terrified. But all fun must come to an end -sadly, but true- and the end for this dragon's fun was cut short by a long thin dark man with black hair that didn't need gel to stand upright.
"Metassia." Hypnos called out, withstanding the look from her eye.
"What mine?"
"How dare you call that fun? You haven't lived until you kill someone."
The glare in the dragon's eyes told everyone else in the room that she was coming close to taking his advice... but to everyone's surprise she followed the mysterious man.
"This killing in dreams.... Can I be bigger?" candidates at the edge of the cavern heard her say when they left the cavern.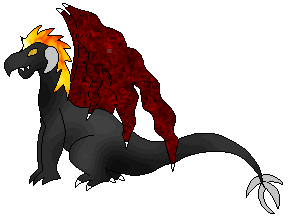 Metassia
.
'Now how do you enter some ones dreams?' Metassia asked.
'It's very simple.. Don't worry I'll teach you.' Hypnos smiled at his dragon. She had grown to adult and was now strong enough to enter dreams, and kill.
From this moment they would enter a girls dreams as rider and dragon. That was scarier than a white owl.
Metassia still called him white owl as a pet name for her beloved rider.
People beware of your dreams!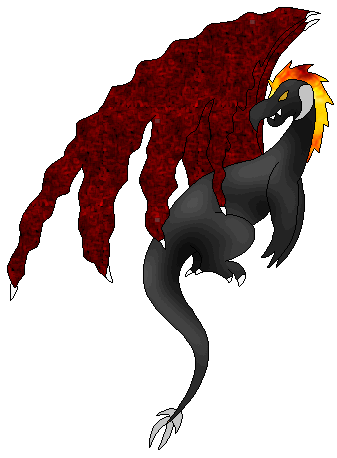 Metassia
.