Kita was born on a warm summer night on CyaTri.
Her parents, Asriel and Sarah, lieutenants of the Cliffs and Camoe dragons were very proud to be th first parents on Dragon Tears. Together they spend one week near the Hoorn Cliffs and the other week in Eiken Forest.
Asriel didn't really like Eiken Forest. He rather go swim or even Surf on his new made board together with the water dragons that swam in the sea. They loved a surfboard. It was the most wonderful thing the dragons had ever seen.
Sarah on the other hand didn't like spending all that time on the soft beach of CyaTri. She wanted to explore the whole forest and almost every day she wondered how she could spend the whole day on the beach with Asriel. But at night when she lay in his arms she knew why.
It seemed that Kita had the temper of her mother and the love for water from her father. But she loved sunsets most of all. She would sit, every night; from the moment that she was old enough not to break anything; on one of the cliffs and look at the sun disappearing behind the sea.
She imagined to hear the sun sis from the tough of the water. And like every night she had a whole bunch of Butterflies around her.
It was no wonder that one of the butterflies followed her home on one night when she got back from the Cliffs.
Her father was very proud that she had bonded to a butterfly, telling her that it was best for her to impress a Cliff now that she had one. But Kita knew better than that. She was a smart girl and her mother didn't really want her to impress a Cliff dragon. She wanted Kita to impress a Camou dragon.
And again Kita knew that if she would impress one of the dragons, she would disappoint the other parent. And she didn't want that. So even when Kita was a small girl, she knew that she would impress another dragon, not a Cliff nor a Camou dragon although she loved both dragons greatly.
/+.+\


<Zonn>
/+.+\
The following week they travelled to Eiken Forest. Even now she would climb a tree and sit there, away from all other things, listening to the hissing of the sun.
The silence was disturbed by a soft sound. She wondered what it was. She knew the sounds that the Dragon Flies make. And it was somewhat different. She got down, missing the last of the sunset, followed by her Butterfly Zonn.
She saw it from the moment that she got down the tree. Some sort of strange bird was attacking a larva. Kita screamed and waved her arms to scare the bird and when it flew away, Kita looked at the small larva. It had small wounds of the beak of the bird. Kita ran through the forest, knowing exactly where to go and where to step.
"Mommy!" Her mother got up from behind a desk and looked at Kita. "I found this.. Can we help it?" Kita showed the larva to her mother and she looked at it. "It's just very scared Kita. Nothing more than a few cuts. Nothing we can't fix." Sarah smiled comforting to Kita and gave it back.
/+.+\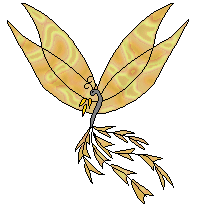 <Cream>
/+.+\
Later when the Larva had turned into a beautiful dragonfly, Cream, nothing was wrong with it. Kita was happy that she now had two pets. She didn't really need a dragon, she was happy the way things were. But now when she turned 18, her parents asked her if she wanted to impress.
Kita had always known that she didn't want a Cliff nor a Camou. But she had never thought of what dragon that she would like to impress..
"I don't know.. I want to. But it's not necessary.."
"Honey.. You can tell me if you want a camou.." It was her father that said it. "Or if you want a Cliff.." Her mother said.
"Well I was thinking not to try with any of the two.."
"All is fine Kita. You can decide." Her mother smiled at her. "But a camou is still the best dragon." Her mother giggled with her own joke.
"We don't want to push you Honey." Asriel said smiling with his wife.
"Well.. Then I think I want a Desert dragon. I always loved them when I saw Tasrin. She's such a beautiful dragon."
"Then a desert it is." Both her parents said. "We still have your brother and sister to push in the right direction." They grinned at her and she grinned back.
/+.+\
Later in that week she went to the Desert and signed her up for impression. Now it was only a matter of time until the eggs were ready to break..