Illamnodrid's Pack
THE PACK:
IMAGE
Currently the Pack consists of the two rebel males Illamnodrid and Lupix who are trying to find mates at the Furry Frenzy.

THE TRADITIONS:
1. Illamnodrid's defeat
2. Illamnodrid's Tale of the Lone Wolf
3. Coming Home (Bipedra 2003)
4. The Furry Frenzy
5. Mates
6. Shakti's Banned out of Existance

Illamnodrid and Shakti were adopted at the Keltic Spirit Glade.
Lupix was found at the Bipedra 2003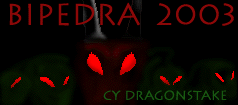 Images copyrighted to their owners.