Wasabi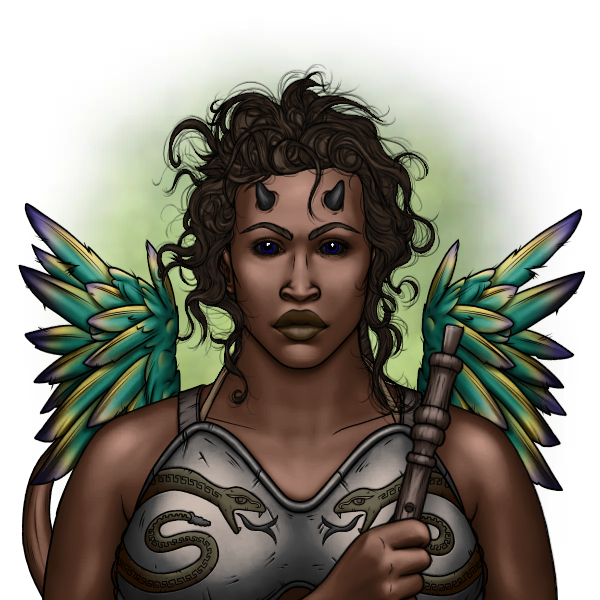 image made with Portrait Workshop
Stats
NAME: Wasabi
GENDER: Female
AGE: 26
SPECIES: Harpy
LOOKS: Wasabi is muscled with dark tanned skin, curly brown hair and feathery wings that are mostly green with yellow and purple highlights. She has two small horns above her eyebrows, a flat nose and generous lips. Her pupils are very dark purple and her sclera are black.
PERSONALITY: Wasabi is as spicy as her name. She starts of warm and pleasant but the spice kicks in soon and then she's a very overpowering flavour. As a musician she is used to playing lead melody, when assigned other parts in a group she usually starts improvising to steal the show... and she is so good at it that most people (aside from the other musicians) won't know.
SKILLS: Music, Improvising.
LIKES: Meat, Oranges and Chocolate
DISLIKES: Cabbage, Coffee and String Beans.
FAMILY: Wasabi was born a part of a harpy tribe where the chicks were raised communally. As such she doesn't know which of the older woman is her birth mother. The harpy she feels closest to is the one who taught her to play the flute.
PETS: --
BOND: -- from
~-,,-~*~-,,-~*~-,,-~*~-,,-~*~-,,-~*~-,,-~*~-,,-~*~-,,-~*~-,,-~*~-,,-~*~-,,-~
Hatching
text
~-,,-~*~-,,-~*~-,,-~*~-,,-~*~-,,-~*~-,,-~*~-,,-~*~-,,-~*~-,,-~*~-,,-~*~-,,-~
Flight
text
~-,,-~*~-,,-~*~-,,-~*~-,,-~*~-,,-~*~-,,-~*~-,,-~*~-,,-~*~-,,-~*~-,,-~*~-,,-~

[STORY] -v- [KARASHI] -v- [RAYU] -v- [WASABI]

~-,,-~*~-,,-~*~-,,-~*~-,,-~*~-,,-~*~-,,-~*~-,,-~*~-,,-~*~-,,-~*~-,,-~*~-,,-~
Lantessama Isle