Ichirin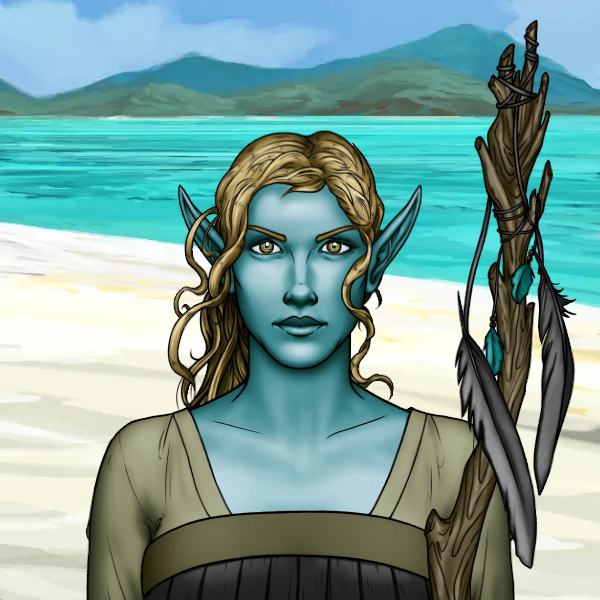 image made with Portrait Workshop
STATS
Name: Ichirin
Age: 107
Gender: Female
Description: A young sea elf with soft blue skin, curly light brown hair, golden eyes and long, pointed ears. Ichirin is tall for a sea elf, and would be taller than most human women as well. Ichirin likes to swim and explore, looking for treasure. She has a romantic side that loves fairytales and happy endings.
Skills: Water magic, swimming.
Hobbies: Collecting seashells, glass beads and other pretty items she finds.
Family: Many siblings and extended family under the sea. Lifebound to Ippiki.
Pets: --
~*-.-*~*-.-*~*-.-*~*-.-*~
SEEDLING
Ichirin let the shiny beads and trinkets run through her hands. She knew her stash was worthless, but to her they referred to glimmers of hope, promises of dazzling things and dreams of a future of her own making. Water elves didn't have too much room on Khylar. Visitors from other worlds had told her of worlds where water was the most dominant feature. The thought seemed so alien and amazing to Ichirin that she took the little seed between her fingers again. The snakelike plant creature had given it to her as thanks for some directions and a listening ear. Ichirin didn't feel like she'd deserved the seed, but Gudrun had waved away her protests, telling her the seed would hatch into a companion.
"What will you be?" Ichirin wondered.
A new type of plant? Or some magical fruit-bearing tree? Maybe a magical seaweed that would dig deep and find the hidden stores of water Gudrun had said were the core of Khylar. Ichirin dreamed and wondered.
As the warmth of her hand embraced the little seed, the first leaves sprouted. Basking in the warmth of dreams and love, the little plant dragon shot out, forming a long serpentine body and sprouting leaves that were almost like fins.
"That sounds wonderful." it replied dreamily.
Ichirin returned to reality and gasped as she noticed the little plant dragon.
"You're just like Gudrun!" she exclaimed.
"Not quite." the seedling water dragon replied, "My name is Pacia."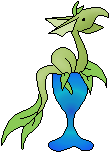 ~*-.-*~*-.-*~*-.-*~*-.-*~
ADULT
Pacia had grown and referred to herself as a duckweed plant dragon. Her hide was a bright, spring green with white patches. She and Ficus had been together nearly every day since they'd sprouted and seemed as close as Ichirin was with Ippiki.
"Because we are mated like you two." Pacia said.
"You are?"
"Lady Gudrun did well to pick seeds who matched so well." Pacia purred.
"Do you think we'll ever see her again?"
"Who knows?" Pacia returned, "But Khylar isn't that big."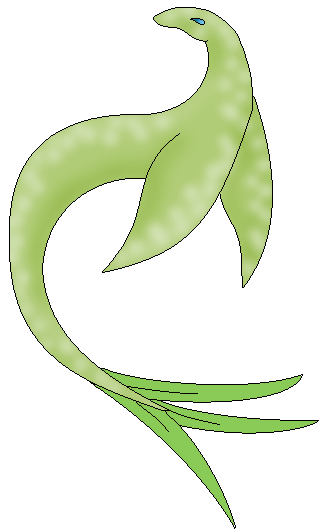 ~*-.-*~*-.-*~*-.-*~*-.-*~
Lantessama Isle
Background images found with google long ago.