Tinien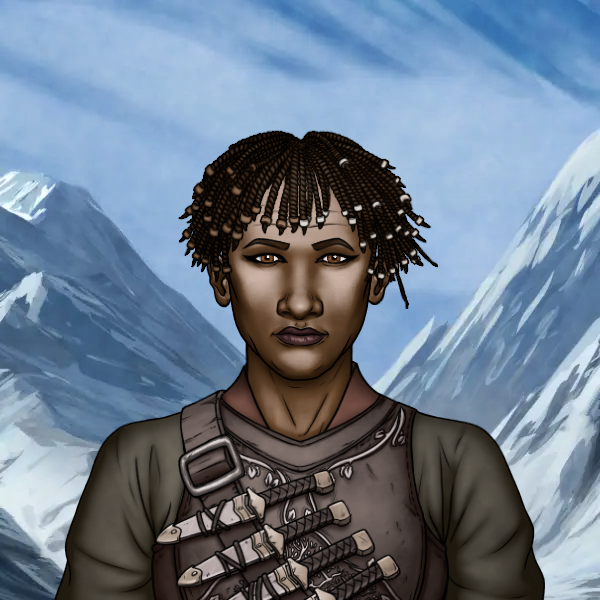 image made with Portrait Workshop
Name: Tinien
Age: 35
Gender: Female
Description: Tinien is a woman with few womanly shapes. She has short, braided dark brown hair, narrow brown eyes and a wide nose. She often frowns and pulls her mouth in a sour line. She is fairly strong with a lot of leg muscle. She has great skill with the daggers she usually wears strapped around her torso. Tinien wears simple leather armour, paired with brown shirts and pants.
Personality: Tinien is all business. Most of the others don't see her as a woman, but as a fellow mercenary. She has been a part of the group for years and pulls her weight. She will never ask to be treated as a woman, having embraced her masculine side to survive on the streets. She is daring, cunning and probably just as ballsy as the other men in the group (if not more).
Homeworld; Gremyne
Family: Unknown, was abandoned.
Bond: - from ???
~*~-*-~*~-*-~*~-*-~*~-*-~*~-*-~*~-*-~*~-*-~*~-*-~*~-*-~*~-*-~*~-*-~*~-*-~*~-*-~*~-*-~*~-*-~*~
Hatching
text
image
~*~-*-~*~-*-~*~-*-~*~-*-~*~-*-~*~-*-~*~-*-~*~-*-~*~-*-~*~-*-~*~-*-~*~-*-~*~-*-~*~-*-~*~-*-~*~
ADULTS
text
image
~*~-*-~*~-*-~*~-*-~*~-*-~*~-*-~*~-*-~*~-*-~*~-*-~*~-*-~*~-*-~*~-*-~*~-*-~*~-*-~*~-*-~*~-*-~*~
Back to Story - Lantessama Isle
Credits: Background from 1-background.com
Fonts used are called Castellar and Lydian