Mechlen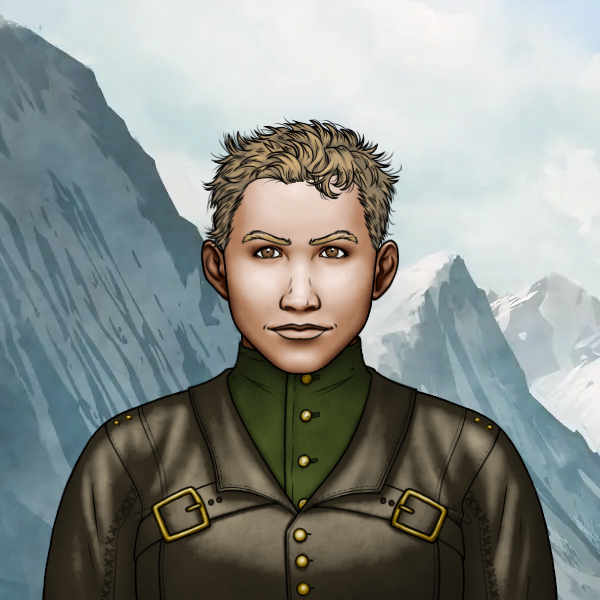 image made with Portrait Workshop
Name: Mechlen
Age: 26
Gender: Male
Description: Mechlen is tall with pale blond hair that he keeps very short. He has brown eyes, a straight nose and thin lips. Like his brother, Mechlen is toned and muscled. He however does not like the showy cloaks and wears functional leather vests instead. Sturdy footwear however is only a sensible choice so the brothers often find themselves wondering which boots are whose.
Personality: Mechlen is a quiet man. He trusts his brother blindly and would follow him to hell and back. He isn't a good talker, but he is a good listener and the man who truly understands what makes every member of the team tick. He knows who will work best together and which mercenaries need to brawl (or talk) it out.
Homeworld; Gremyne
Family: Brother Alden. Their parents died in a fire several years ago when Alden and Mechlen were barely adults.
Bond: - from ???
~*~-*-~*~-*-~*~-*-~*~-*-~*~-*-~*~-*-~*~-*-~*~-*-~*~-*-~*~-*-~*~-*-~*~-*-~*~-*-~*~-*-~*~-*-~*~
Hatching
text
image
~*~-*-~*~-*-~*~-*-~*~-*-~*~-*-~*~-*-~*~-*-~*~-*-~*~-*-~*~-*-~*~-*-~*~-*-~*~-*-~*~-*-~*~-*-~*~
ADULTS
text
image
~*~-*-~*~-*-~*~-*-~*~-*-~*~-*-~*~-*-~*~-*-~*~-*-~*~-*-~*~-*-~*~-*-~*~-*-~*~-*-~*~-*-~*~-*-~*~
Back to Story - Lantessama Isle
Credits: Background from 1-background.com
Fonts used are called Castellar and Lydian