Hegouw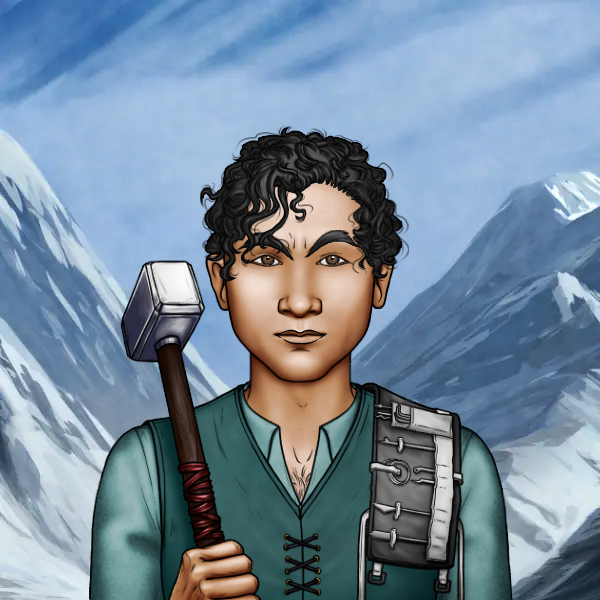 image made with Portrait Workshop
Name: Hegouw
Age: 25
Gender: Male
Description: Hegouw is a slender, short-statured man with a pale complexion and curly brown hair. Hegouw keeps it rather short so it doesn't get tangled (too much). He has a wide nose and small mouth. Hegouw is probably the most classy of the mercenaries, having the best sense of style. He likes to wear shirts and vests, paired with neat pants.
Personality: Hegouw is the mechanic of the group. He loves to repair things and usually carries a tool belt on his person. He is a man of few words but has an unexpected soft side that likes poetry and art. In his profession though, he has few chances to actually appreciate those subjects.
Homeworld; Gremyne
Family: Youngest son in a large family of farmers. Left his home to find his fortune and found himself a mercenary.
Bond: - from Eldiheim (Planet Kynn)
~*~-*-~*~-*-~*~-*-~*~-*-~*~-*-~*~-*-~*~-*-~*~-*-~*~-*-~*~-*-~*~-*-~*~-*-~*~-*-~*~-*-~*~-*-~*~
ELDIHEIM
Hegouw felt himself being torn away from Bergen. The look of anguish on the other man's face as they were forced apart became lodged in the slim mechanic's memories. Maybe it was for the best that they'd been separated, Bergen surely had a better chance of surviving on his own. Hegouw knew he was a valuable part of the mercenary band, but he also knew that he was not a fighter.
Resigned to his fate, the young man amused himself by looking around and playing annoying little road games while he drifted in the shadowy realm. He could see ground, he could see a sky but there was not a tree in sight. the entire place seemed to exist solely of rocks and dirt. Mountains rose in the distance behind which celestial bodies floated. Everything changed place and remained the same. Although days passed, Hegouw saw not a sign of life. No birds, not even an insect or a blade of grass.
After a while, Hegouw found that he could influence his direction somewhat. Like swimming against a strong current he could sometimes nudge himself in another direction, but it cost a tremendous amount of energy. Deciding it would be better to save his strength, Hegouw returned to observing. He seemed to be drawn toward a mountain range, three peaks standing tall, but although he clearly felt himself being drawn that way, he never got closer.
And then Alden appeared. Seemingly born from shadow, the blond-haired mercenary leader reached out his arms and grabbed hold of Hegouw.
"I'm so glad to see you." Alden called out.
"The same." Hegouw nodded,"Have you found the others?"
Hegouw's mind had constantly been on his comrades and their safety was his first concern. Alden's face darkened and Hegouw feared the worst.
"I've found some, but not everyone. We will find them though."
"That's better than I could have hoped for. Have you found Bergen?"
Alden nodded but he looked worried. "I have. He and Tinien are safe, I think."
"Can I help?" Hegouw asked.
Suddenly a whispy voice added itself to the conversation: "You could go to them and keep an eye out."
Alden opened his mouth to object but Hegouw as faster: "I'll do it!"
Qetszal, the shadowling that had bonded Alden, seemed to grow denser in his contentment and pricked the mechanic with his tail. A slight chill emanated from the pinpoint but the cold soon vanished.
"What did you do?" Alden asked.
"He is bound tighter to us than the others now. Call for us and we'll come."
Two red eyes seemed to burn into Hegouw's soul and then he was standing in an unfamiliar place, lost and alone.
"Hello?" he called, "Anyone?"
~*~-*-~*~-*-~*~-*-~*~-*-~*~-*-~*~-*-~*~-*-~*~-*-~*~-*-~*~-*-~*~-*-~*~-*-~*~-*-~*~-*-~*~-*-~*~
Hatching
text
image
~*~-*-~*~-*-~*~-*-~*~-*-~*~-*-~*~-*-~*~-*-~*~-*-~*~-*-~*~-*-~*~-*-~*~-*-~*~-*-~*~-*-~*~-*-~*~
ADULTS
text
image
~*~-*-~*~-*-~*~-*-~*~-*-~*~-*-~*~-*-~*~-*-~*~-*-~*~-*-~*~-*-~*~-*-~*~-*-~*~-*-~*~-*-~*~-*-~*~
Back to Story - Lantessama Isle
Credits: Background from 1-background.com
Fonts used are called Castellar and Lydian