Hegouw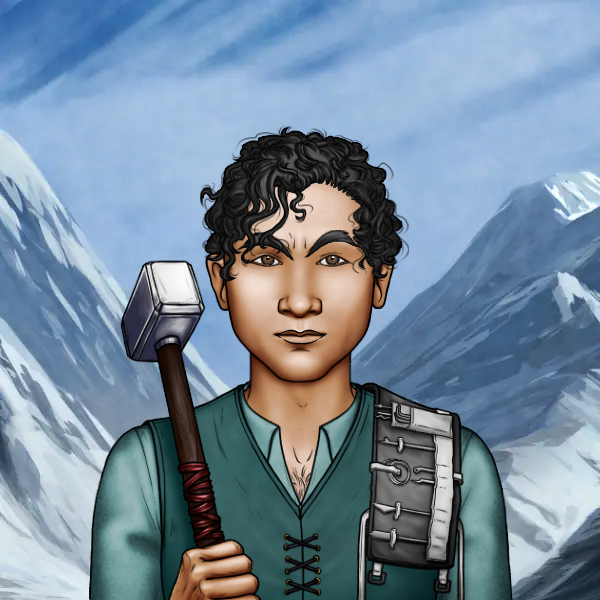 image made with Portrait Workshop
Name: Hegouw
Age: 25
Gender: Male
Description: Hegouw is a slender, short-statured man with a pale complexion and curly brown hair. Hegouw keeps it rather short so it doesn't get tangled (too much). He has a wide nose and small mouth. Hegouw is probably the most classy of the mercenaries, having the best sense of style. He likes to wear shirts and vests, paired with neat pants.
Personality: Hegouw is the mechanic of the group. He loves to repair things and usually carries a tool belt on his person. He is a man of few words but has an unexpected soft side that likes poetry and art. In his profession though, he has few chances to actually appreciate those subjects.
Homeworld; Gremyne
Family: Youngest son in a large family of farmers. Left his home to find his fortune and found himself a mercenary.
Bond: - from ???
~*~-*-~*~-*-~*~-*-~*~-*-~*~-*-~*~-*-~*~-*-~*~-*-~*~-*-~*~-*-~*~-*-~*~-*-~*~-*-~*~-*-~*~-*-~*~
Hatching
text
image
~*~-*-~*~-*-~*~-*-~*~-*-~*~-*-~*~-*-~*~-*-~*~-*-~*~-*-~*~-*-~*~-*-~*~-*-~*~-*-~*~-*-~*~-*-~*~
ADULTS
text
image
~*~-*-~*~-*-~*~-*-~*~-*-~*~-*-~*~-*-~*~-*-~*~-*-~*~-*-~*~-*-~*~-*-~*~-*-~*~-*-~*~-*-~*~-*-~*~
Back to Story - Lantessama Isle
Credits: Background from 1-background.com
Fonts used are called Castellar and Lydian