Bergen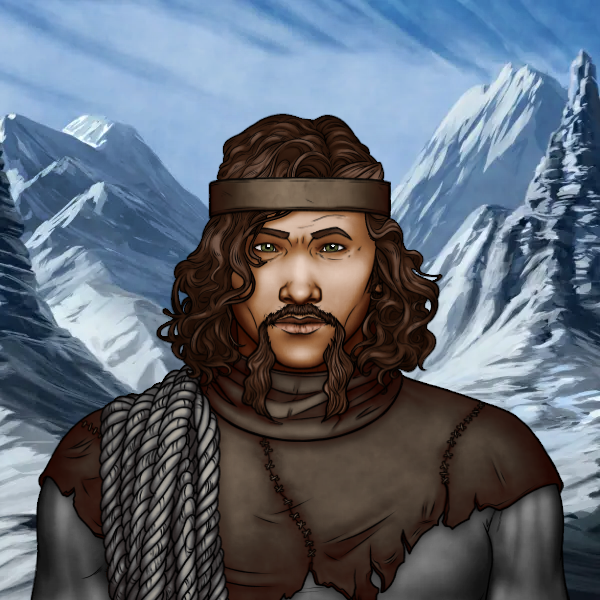 image made with Portrait Workshop
Name: Bergen
Age: 32
Gender: Male
Description: Bergen is a tall, wide-shouldered man with shoulder-length, curly brown hair, tired eyes, a flat nose and an unusual moustache. He's been doing physical labour for a living and it shows. He's burly and strong. Bergen usually wears black pants, grey shirts and the remains of a jacket. He has yet to find a new one he likes.
Personality: Bergen is a rowdy man. He is open and fun-loving, but knows to keep his wits about him. He enjoys going out to bars, but he truly loves pitting himself against nature and coming out victorious. He wants to be the strongest person alive, to protect himself and those weaker. He is the one who had the most moral problems with their mercenary work for Lord Stannon.
Homeworld; Gremyne
Family: Probably has a few kids in neighbouring towns, but no official connections.
Bond: - from ???
~*~-*-~*~-*-~*~-*-~*~-*-~*~-*-~*~-*-~*~-*-~*~-*-~*~-*-~*~-*-~*~-*-~*~-*-~*~-*-~*~-*-~*~-*-~*~
Hatching
text
image
~*~-*-~*~-*-~*~-*-~*~-*-~*~-*-~*~-*-~*~-*-~*~-*-~*~-*-~*~-*-~*~-*-~*~-*-~*~-*-~*~-*-~*~-*-~*~
ADULTS
text
image
~*~-*-~*~-*-~*~-*-~*~-*-~*~-*-~*~-*-~*~-*-~*~-*-~*~-*-~*~-*-~*~-*-~*~-*-~*~-*-~*~-*-~*~-*-~*~
Back to Story - Lantessama Isle
Credits: Background from 1-background.com
Fonts used are called Castellar and Lydian