Bergen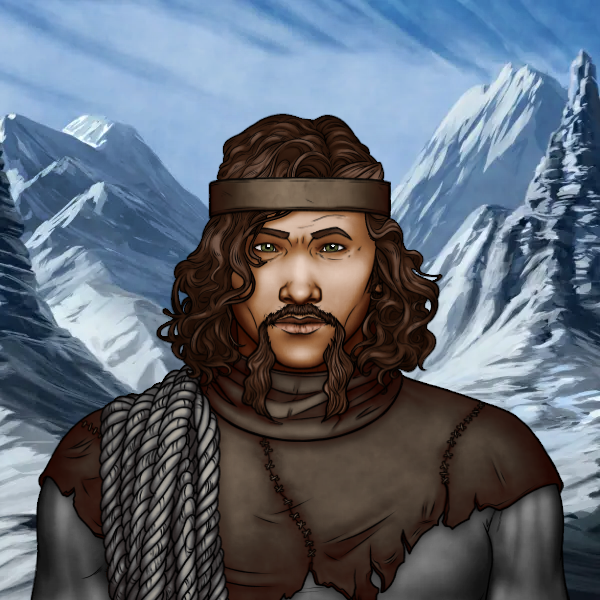 image made with Portrait Workshop
Name: Bergen
Age: 32
Gender: Male
Description: Bergen is a tall, wide-shouldered man with shoulder-length, curly brown hair, tired eyes, a flat nose and an unusual moustache. He's been doing physical labour for a living and it shows. He's burly and strong. Bergen usually wears black pants, grey shirts and the remains of a jacket. He has yet to find a new one he likes.
Personality: Bergen is a rowdy man. He is open and fun-loving, but knows to keep his wits about him. He enjoys going out to bars, but he truly loves pitting himself against nature and coming out victorious. He wants to be the strongest person alive, to protect himself and those weaker. He is the one who had the most moral problems with their mercenary work for Lord Stannon.
Homeworld; Gremyne
Family: Probably has a few kids in neighbouring towns, but no official connections.
Bond: - from Eldiheim (Planet Kynn)
~*~-*-~*~-*-~*~-*-~*~-*-~*~-*-~*~-*-~*~-*-~*~-*-~*~-*-~*~-*-~*~-*-~*~-*-~*~-*-~*~-*-~*~-*-~*~
ELDIHEIM
Bergen felt the force dragging on him gain. He held on tight but there was no holding on to Hegouw. Both of them were torn apart and had to continue on their own. Scenery, shadows and Scents appeared and went. Never did he see one of the others. Bergen called out, hoping for a reply but all that came back were his own words, echoing on unseen obstacles.
Sometimes a deep cold took hold of him, sapping his strength and confidence. Like ghosts of failure clutching at his soul. It was thus that Alden found him. Assailed by shadows, barely holding on to sanity but somehow managing. Qetszal made quick work of the mindless shades that had attached themselves to the mercenary.
"I smell another of your comrades close by." the true chaotic shadows whispered.
"Take us to them." Alden asked.
One second they were in the Elsewhere, the next they were in a dreary place, seemingly warped and yet thriving. Qetszal seemed to take care not to touch the terrain and when Alden asked only gave the most vague of explanations:
"I don't want this corruption to take hold of me. I belong to another."
"We should look for one of ours, Qetszal says they're close." Alden said, returning his attention to Bergen.
"I'm surprised anyone got out of that place on their own." Bergen noted.
"Same." Alden added, "It's taken me too long to find you. Maybe some of the others have managed to get away too. If they're not in the Elsewhere, Qetszal might not find them."
For that, the blond mercenary received a concentrated slap of shadow against his head.
"I will find them. As I did this one."
And true enough, Qetszal pointed his wings toward a woman that approached them.
"Tinien!" Alden called and both he and Bergen raced toward her.
"I never thought I'd see you again." Bergen called out.
"I'm tougher than whatever they threw at me." Tinien said coolly.
"I guess you are." Alden acknowledged.
"But where are we?" Bergen asked.
"Eldiheim." Tinien said, "I've not been here long but they've been welcoming. They want people to bond to the balespawn that are growing in their eggs. I figured it might not be so bad to go for it."
Alden looked at Qetszal with a questioning look.
"They are not from me and mine but they would be similar enough for your friends." the shadowling let his rider know.
Alden recounted his dragon's words and asked whether or not they wanted to stay or return to Lantessama. But neither mercenary was all that keen to venture back into the Elsewhere quite so soon.
"Give them something of yours and it will become a beacon if they later want to return to us." Qetszal suggested.
Alden nodded and cut two strips of his cape that he handed to both mercenaries. Qetszal's unease rubbed of on him and he wondered if he'd ever see his two friends again.
"Only time will tell. Now come, it's best if we don't linger here. The others will notice."
~*~-*-~*~-*-~*~-*-~*~-*-~*~-*-~*~-*-~*~-*-~*~-*-~*~-*-~*~-*-~*~-*-~*~-*-~*~-*-~*~-*-~*~-*-~*~
Hatching
text
image
~*~-*-~*~-*-~*~-*-~*~-*-~*~-*-~*~-*-~*~-*-~*~-*-~*~-*-~*~-*-~*~-*-~*~-*-~*~-*-~*~-*-~*~-*-~*~
ADULTS
text
image
~*~-*-~*~-*-~*~-*-~*~-*-~*~-*-~*~-*-~*~-*-~*~-*-~*~-*-~*~-*-~*~-*-~*~-*-~*~-*-~*~-*-~*~-*-~*~
Back to Story - Lantessama Isle
Credits: Background from 1-background.com
Fonts used are called Castellar and Lydian