Aliani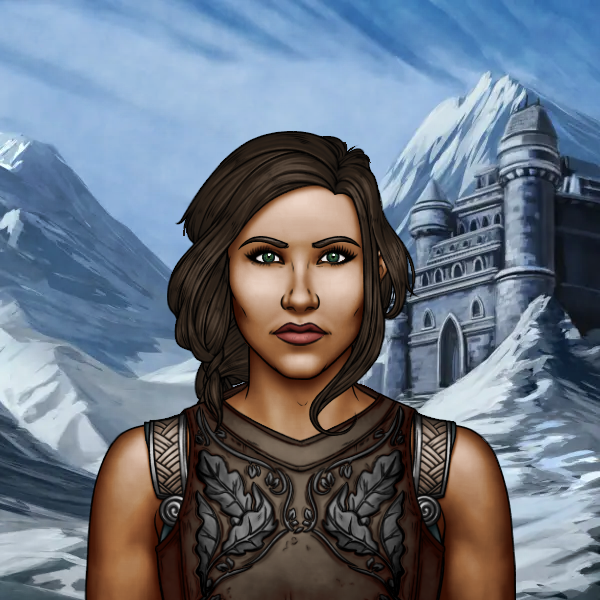 image made with Portrait Workshop
Name: Aliani
Age: 25
Gender: Female
Description: Aliani is a woman of medium height, with slanted shoulders and bad posture. She has filled out over the last 2 years. Her long brown hair is usually braided. She has grey eyes, a straight, narrow nose and red lips. She saved up most of her earnings in those first months to buy decent clothes, going for a more elaborate leather breast-plate and shirts with some embellishments.
Personality: Aliani had to carve life out of a tiny plot of land she inherited but has never regretted losing it since she gained a new home in it's place. She is a bright, cunning woman who knows how to keep the guys in check. She is tough and funny, using humour as a way to hide the fact that she sometimes feels sad and alone.
Homeworld; Gremyne
Family: Orphaned, no siblings.
Bond: - from ???
~*~-*-~*~-*-~*~-*-~*~-*-~*~-*-~*~-*-~*~-*-~*~-*-~*~-*-~*~-*-~*~-*-~*~-*-~*~-*-~*~-*-~*~-*-~*~
Hatching
text
image
~*~-*-~*~-*-~*~-*-~*~-*-~*~-*-~*~-*-~*~-*-~*~-*-~*~-*-~*~-*-~*~-*-~*~-*-~*~-*-~*~-*-~*~-*-~*~
ADULTS
text
image
~*~-*-~*~-*-~*~-*-~*~-*-~*~-*-~*~-*-~*~-*-~*~-*-~*~-*-~*~-*-~*~-*-~*~-*-~*~-*-~*~-*-~*~-*-~*~
Back to Story - Lantessama Isle
Credits: Background from 1-background.com
Fonts used are called Castellar and Lydian