Vesta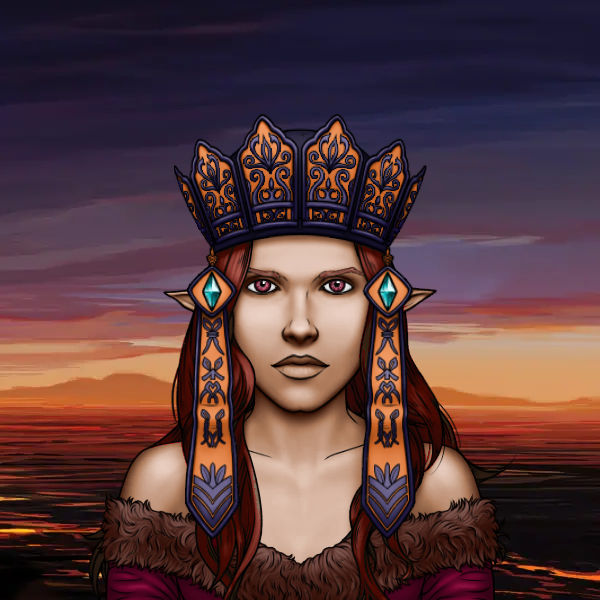 The brightly coloured fire fairy basked in the rays of the dying sun. The muted pinks and oranges of the sky enhanced her long, orange-red hair and gave her pale skin a healthy glow. Her pink eyes seemed to sparkle with tiny flames as she watched the sun flare up one last time and then fade away.
Hungry for more, Vesta looked for more places she could go. She'd been born just a few years ago, appearing from the remnant warmth and light of extinguished flames. And she felt most at home in the last rays of the sun setting. In fact she liked that moment so much that she strove to perpetually live in it.
Which meant a lot of dimension hopping. It cost her power, but she refilled her reserves each time she was caught by the light of the setting sun so the continuous teleporting proved to be a good training. Vesta knew she'd gotten stronger. In fact she had gotten bigger too. She'd started out as a pixie, barely larger than a human hand. At her current power she was just above knee-height for a human and if she wanted, she could show herself to them. Although she hardly made the effort as she had little use of them.
Vesta did wonder if she would keep growing. Would she one day dwarf humans as they now dwarfed her? She somehow doubted it. There probably wasn't a sun large enough to give her enough rays to feed a form that big. But just thinking of such a glorious sunset made her tremble and dream.
Her fiery wings blazed a bit brighter and off she was, headed for her next sunset.
Vesta reappeared over a large, snowy plain. The temperature was cold, but that didn't matter. Her power kept her warm and the golden sun was just starting to descend, promising her a glorious amount of energy. Vesta basked and bathed in it's power and sighed as it gave her that final flare of bright light.
Just as she wanted to move on, something peculiar happened. A bright white reptilian headed out for the plain. The creature called and others joined it. Excited Vesta realised she must be watching dragons, or several variants of the mythical creature. This was the first time she'd ever gotten close to another creature as magical as she was. Elves and fairies hardly ever met up. But apparently dragons did.
Vesta watched as the creatures ran and some flew. The energy of the frenzy caught her interest and she followed without a second thought.
The sun had vanished completely but every dragon had mated. Vesta couldn't help but feel an immense pull on her being to remain here and see what would happen. It was as if something had called her to witness this. Fate maybe. Or something equally mysterious. Vesta knew but one thing. Her destiny waited here and she needed for it to awaken and call her.
•*¨)




¸.•´¸.•*´¨) ¸.•*¨)




(¸.•´ (¸.•´

Vesta

¸.•*´¨)
Hatching
text
•*¨)




¸.•´¸.•*´¨) ¸.•*¨)




(¸.•´ (¸.•´

Vesta

¸.•*´¨)
Weyrlings
text
•*¨)




¸.•´¸.•*´¨) ¸.•*¨)




(¸.•´ (¸.•´

Vesta

¸.•*´¨)
Adults
text
•*¨)




¸.•´¸.•*´¨) ¸.•*¨)




(¸.•´ (¸.•´

Vesta

¸.•*´¨)
Vesta is a candidate at The Ryslen Flurry 2021
Backgrounds found with google long ago.

Lantessama Isle