Genevienne
Genevienne bowed down and took the hand extended towards her. As was the tradition she kissed it and stood up again. Of course it must have been silly to see the first ever female knight in the history of Elvaye kiss the hand of her ruling mistress.
On Elvaye women ruled and men protected them. This age-old custom had proven quite successful over the years. At the dawn of time men had ruled and females had raised the children. After the times of war however the Wise had decided a change was needed. And now Genevienne had broken that tradition. She was the seventh daughter of a rich merchant and in all ways his son. Genevienne knew her father had wanted a son and she had tried to be what he wanted of her. She had been more violent than any of the neighbour boys and more cunning than a fox. And all that had earned her this right.
To be true, Genevienne didn't look like a lady. Her legs and arms were muscled and she kept her hair short. She was built tall and square, something that had made many a boy envious of her.
Genevienne was walking back from the queen's quarters to her own more subtle chambers. She was thinking and thus didn't notice the slashing blade until it blurred her vision. Quickly she drew a sword and took an attack pose.
"I see our Lady Genevienne isn't as ready as she should be." Masnik spoke.
At the sight of the captain of the guard, Genevienne jumped in position and saluted him. Genevienne knew he hated her. If he had been able to find a flaw big enough in her skills he would have happily dismissed her. Genevienne could protect herself with almost any weapon imaginable though. Her favourite weapon however was the sword, and specifically, the old golden family sword that had been passed down in her family for generations.
"One day you'll bring the royal guard great shame." Masnik whispered and disappeared faster in the shadows than a flame in howling wind. Genevienne shuddered, there was something about the captain that always made her walk on her toes, like he knew everything about her. Quickly she returned to her own little apartment, opened the door and locked it once she was in. Inside her own safe environment she could laugh about her silly fears and intuitions. She was a knight now!
Genevienne sat down on her bed and looked out the window. The guests were already leaving after the short private ceremony. Genevienne wondered if they would even remember her five years from now. Guards of the queen tended to die young at the sword. Genevienne suddenly focused as she saw a dark figure entering through the castle chapel. She had never seen the man before and she didn't like the way he looked at all. His face was partially hidden in a dark cloak and she could see he had a long sword by the way it folded around his body. It might just be a strange exotic merchant, she had seen those enough growing up, but it could be an assassin. Genevienne stood up, got her family sword and rushed down to the throne room. In the shadows of a dark doorway she waited. The queen was in her audienceroom right on the other side and all visitors had to pass the huge red-gold room if they wanted to visit her. When she saw the men in the cloak entering she pulled her sword and took a step closer. The man was bald and bold, taking long strides. When he entered the queen's room she followed him and barged in the room.
Once inside Genevienne froze. The queen was talking to the captain. The queen turned to face her. "Yes?" she asked. All Genevienne could do to warn her was scream. So fast had Masnik stabbed the queen in the back.
"Look what you have done!" he said.
"Done what?" Genevienne asked, pulling her sword.
"Killed the queen of course."
"I didn't… You." Genvienne said, overcoming the short state of shock.
"Oh, who do you think they'll believe? Certainly once you are dealt with too." Masnik said and smiled. He gestured and Genevienne was grabbed by the long bald man she had been following. She had forgotten all about him. She tried breaking loose, but the man was surprisingly strong.
"You see, I think it's time we have a man as ruler again. When I tell them what happened here, the people will love me… and since the queen has left us without an heir, .."
"You'd be willing to take her place!" Genveienne grimaced when the hold on her arms tightened.
"Yes."
"I'll kill you before you can get out!" she yelled.
"Now look at where we are. Which one of us is outnumbered and being held? Not me dear."
"You'd have to kill me." She said.
"Oh, I will… and the good wizard over there assured me he has the perfect way to rid us of your body. He isn't quite sure what it does, but disappear you will."
This said, Masnik took her sword and trust it through her skin right under her left shoulder. Genvienne felt the stabbing pain of a mortal wound and fainted as the blood left her body.
Shortly after she awoke again to feel a burning. Covered in flames she nearly died of fright. But the flames weren't exactly killing her, they just hurt. Badly. Genevienne could hear the wizard cackle as she was consumed ever further by the flames until she was just an essence. Painless she drifted for a moment. Only to appear again on an alien world.
Genevienne screamed as the pain of the stab returned. The flames had burned the wound shut but she was still weak. She was still laying on the same spot she had appeared in a few hours later when a shadow passed over her. The shadow was blue and moving. Only moments later Genvienne heard a voice.
"Are you ok?"
And then, when she didn't answer: "Polar Wind, we need to get her safe."
Then she was lifted, with a lot of effort, onto the large animal. Genvienne gave into the dark and fainted again.
Cold water was splashed in her face and Genvienne awoke again.
"Hello. How do you feel?"
"Lousy."
"So you can speak. My named is Eryn and I found you out there on the plains with Polar Wind."
"The animal?"
"Don't let her hear you call her that! Polar Wind is a dragon and quite proud of it."
"Dragon?"
"Yes, there are new eggs too. People who suddenly appear here are usually meant to adopt one of the hatchlings."
Slowly Genevienne's mind became more stable and clear. She remembered what had happened and she knew she would never be able to go back. None of the others who the wizard had experimented on had returned… at least she would be remembered on Elvaye…She thought bitter.
"I'll try out for one." She said to the girl that had saved her. At least this new life seemed as exciting as being a knight.

Genevienne watched as the eggs rocked and pieces of eggshell were flying around. When one of the pieces hit her, she took a step back. She wasn't a knight anymore. Still she acted like one. She still dressed herself the way a good knight should -steal and lot's of leather- and carried her old sword around. None of the people seemed to like her much. Almost as if they were afraid of her. Well she would only be dangerous if they tried to hurt... "who?"
"Me?" A voice asked.
"Genvienne turned and saw a little golden hatchling. A baby princess, with all the grace and power royals have. She swept her little tail around in a manner that seemed to say: "I'm nervous, help me.'" And yet her eyes bore the message: "I can fend for myself."
Genvienne smiled and bowed for her new queen. "I pledge you my loyalty, Queen..."
"Rora." The gold conveniently interrupted.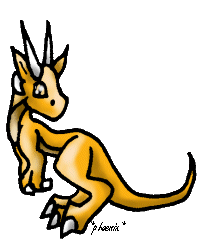 Rora


SWEET DREAMS