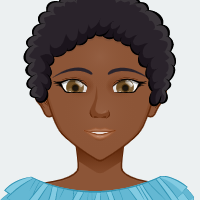 LYRA

Name:
Lyra
Age:
18
Gender:
Female

Description:
Lyra has a dark complexion with curly black hair, large brown eyes and a large nose. She usually wears comfortable clothes. She looks a bit untidy (stains, creases, unruly hair).
Image from: Avatar Maker
Behaviour:
Lyra is a real scatterbrain. She lives for her music and generally has little attention for anything else. She can practice for hours on end, sometimes forgetting to eat.

Studying:
Harper - Music - Stringed instruments
Hobbies:
Composing music.
Pets:
--

Family:
Lyra lives with her parents (Cerces and Orion) who own a crystal and curiosity shop. She was raised a bit alternative but not much of that stuck once music entered her life.
Home:
Marillian Hold

image

THE ??? DRAGON

Name:
--
Gender:
--

Description:
--
Behaviour:
--

Hatched at:
???


Lantessama Isle