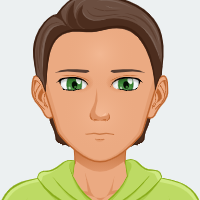 LESTER

Name:
Lester
Age:
19
Gender:
Male

Description:
Lester is smaller than average, he has dark brown hair and green eyes. He often frowns or scowl making him come across as unfriendly on first contact.
Image from: Avatar Maker
Behaviour:
Lester is a worrywart. He believes in being prepared and usually carries around a ton of things that might just come in handy. Despite his exterior, he is actually friendly and caring, earning him a popular place among the older students, because he will probably be able to help you if you need something.

Studying:
Harper - Music - Fiddle
Hobbies:
Walking (preferably in the forest)
Pets:
Blue firelizard Cobalt from Isla Weyr.


Family:
Adoptive parents (Louise & Lilah), no siblings.
Lester grew up in a loving household. Both his mothers worked away from home so he was often with his grandparents out in Eillan hold. Loves animals and knows his way around the farm.
Home:
Mariallian Hold.

image

THE ??? DRAGON

Name:
--
Gender:
--

Description:
--
Behaviour:
--

Hatched at:
???


Lantessama Isle