Tongren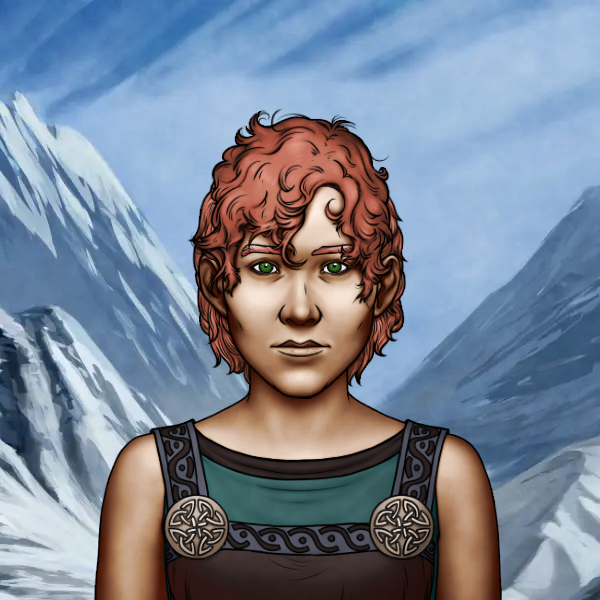 image made with Portrait Workshop
Name: Tongren
Age: 15
Gender: Male
Description: Tongren is a teenaged boy who still needs to hit his growth spurt. He is on the smaller side, with light-toned skin, green eyes and curly red hair. He has a large nose, thin lips and a narrow chin. Tongren often wears shirts and overalls since they don't sag. His footwear leaves much to be desired, often consisting of worn-down sandals.
Personality: Tongren is eager. He wants to be a full-fledged member of the mercenary band, be as strong as the others and help them. But in his youthful enthusiasm, he often makes mistakes or discloses secrets to outsiders. At the moment he looks up to Oud've like a father and will do anything to make the older man proud.
Homeworld; Gremyne
Family: Orphaned three years ago, Tongren was taken in by the mercenaries when they passed through town. Though his grandmother didn't want to see him in the dangerous profession, she could not raise him and would be proud to see him now.
Bond: - from Kyanos Weyr
~*~-*-~*~-*-~*~-*-~*~-*-~*~-*-~*~-*-~*~-*-~*~-*-~*~-*-~*~-*-~*~-*-~*~-*-~*~-*-~*~-*-~*~-*-~*~
KYANOS WEYR
Tongren helf on to Oud've despite the forces trying to pull them apart. He'd had to let go of Aliani after something had hit them. Tongren vowed to not let go of Oud've unless he died. Oud've meanwhile clung to the young boy, determined to get him to safety, if only he could find a way to keep spinning. As it was all his energy went to not vomiting his stomach out. Together they spiralled and turned, as if they were being hurled across the sky without ever losing momentum.
Until the finally hit something. Something soft and dark. A voice, seductive, slightly menacing and as dark as the shadows around them said:
"We've found you!"
Next thing they knew, they were back below a sky and above the earth.... although the earth looked to be broken up and several pieces were floating. There was a waterfall flowing down from the sky into the depths and around them large creatures flew. The shadow set them down and seemed to shrunk.
"I'm so glad we could find you." Alden called out.
"Where are we?" Oud've asked.
"I'm so glad you're dafe!" Tongren called out at the same time and embraced Alden, making the man slightly uncomfortable.
"Qetszal tells me this is Kyanos Weyr on the planet Kynn. It was the closest place he could bring us."
Alden explained what had happened and though eh wished to stay, he had to leave them so he could look for the others. But he vowed to come get them from the moment he knew where everyone had ended up.
~*~-*-~*~-*-~*~-*-~*~-*-~*~-*-~*~-*-~*~-*-~*~-*-~*~-*-~*~-*-~*~-*-~*~-*-~*~-*-~*~-*-~*~-*-~*~
Hatching
text
image
~*~-*-~*~-*-~*~-*-~*~-*-~*~-*-~*~-*-~*~-*-~*~-*-~*~-*-~*~-*-~*~-*-~*~-*-~*~-*-~*~-*-~*~-*-~*~
ADULTS
text
image
~*~-*-~*~-*-~*~-*-~*~-*-~*~-*-~*~-*-~*~-*-~*~-*-~*~-*-~*~-*-~*~-*-~*~-*-~*~-*-~*~-*-~*~-*-~*~
Back to Story - Lantessama Isle
Credits: Background from 1-background.com
Fonts used are called Castellar and Lydian