BRAKEL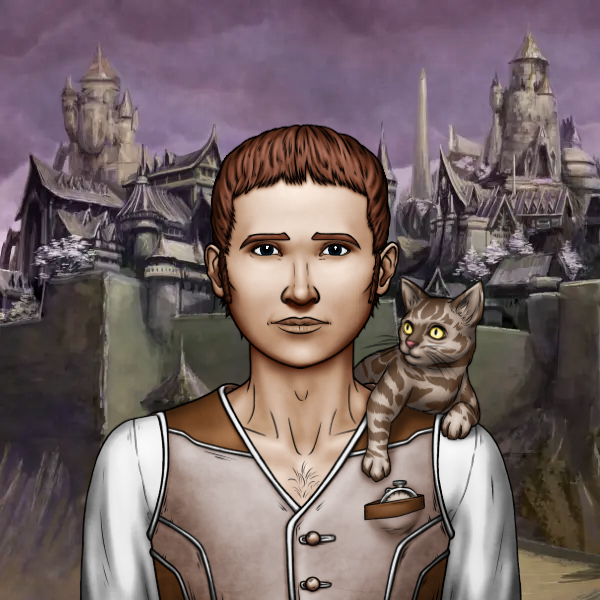 image made with Portrait Workshop
Name: Brakel
Age: 18
Gender: Male
Description: Brakel is a young man with a slender build, rounded shoulders and thin limbs. He has his mother's sleek, rust-coloured hair and his father's brown eyes. He has a straight nose and thin lips. His face is round with not much definition to his chin. Brakel usually wears a white shirt, topped with a leather vest that he feels make him look refined and proper, like he really is the one that is to inherit the inn.
Personality: Brakel is a young man still. He has seen a lot of people come through the tavern and has learned that to be an innkeeper, one must carefully chose their clientele. He doesn't always approve of the people his father allows in the inn, but Brakel knows he has a lot left to learn. He can effortlessly switch on his "work-persona", show a big smile and remain calm and friendly. He might curse and let off steam in his private quarters later though.
Homeworld; Gremyne
Family: Beersel's son, mother deceased. No siblings. Pet cat "Tigger".
Bond: - from Nidus Aven
~*~-*-~*~-*-~*~-*-~*~-*-~*~-*-~*~-*-~*~-*-~*~-*-~*~-*-~*~-*-~*~-*-~*~-*-~*~-*-~*~-*-~*~-*-~*~
Hatching
text
image
~*~-*-~*~-*-~*~-*-~*~-*-~*~-*-~*~-*-~*~-*-~*~-*-~*~-*-~*~-*-~*~-*-~*~-*-~*~-*-~*~-*-~*~-*-~*~
ADULTS
text
image
~*~-*-~*~-*-~*~-*-~*~-*-~*~-*-~*~-*-~*~-*-~*~-*-~*~-*-~*~-*-~*~-*-~*~-*-~*~-*-~*~-*-~*~-*-~*~
Back to Story - Lantessama Isle
Credits: Background from 1-background.com
Fonts used are called Castellar and Lydian