Aliani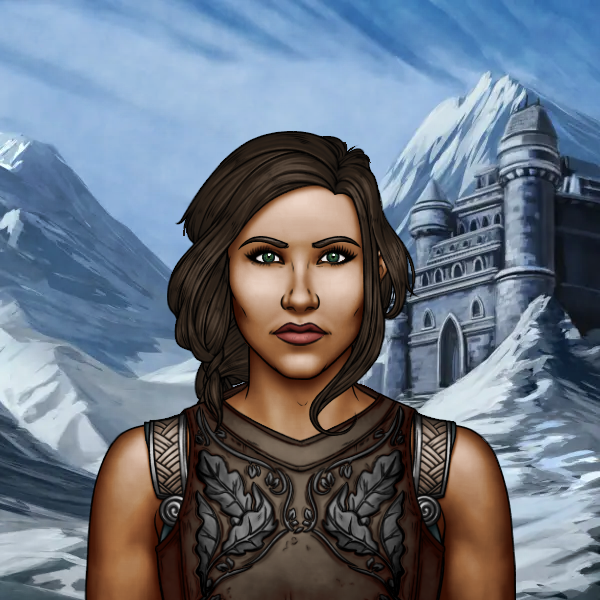 image made with Portrait Workshop
Name: Aliani
Age: 25
Gender: Female
Description: Aliani is a woman of medium height, with slanted shoulders and bad posture. She has filled out over the last 2 years. Her long brown hair is usually braided. She has grey eyes, a straight, narrow nose and red lips. She saved up most of her earnings in those first months to buy decent clothes, going for a more elaborate leather breast-plate and shirts with some embellishments.
Personality: Aliani had to carve life out of a tiny plot of land she inherited but has never regretted losing it since she gained a new home in it's place. She is a bright, cunning woman who knows how to keep the guys in check. She is tough and funny, using humour as a way to hide the fact that she sometimes feels sad and alone.
Homeworld; Gremyne
Family: Orphaned, no siblings.
Bond: - from Nidus Descendi
~*~-*-~*~-*-~*~-*-~*~-*-~*~-*-~*~-*-~*~-*-~*~-*-~*~-*-~*~-*-~*~-*-~*~-*-~*~-*-~*~-*-~*~-*-~*~
NIDUS DESCENDI
Aliani had seemed to walk endlessly through the maze of halls and stairwells. Still this was better than the original weightless pull that had made her nauseous and disoriented. At least now she was only disoriented. And definitely not dead. Once more the mercenary woman reminded herself of that. Jumping into a dark vortex was maybe not the smart thing to do, but when faced with half a dozen angry soldiers who were corrupt enough to use their swords and leave you to the wolves, the dark vortex would be her pick any time.
Going up some stairs, Aliani wondered how high this place reached. She had tried to reach the end by always going up. Trying to stick to any of the cardinal directions had proved impossible very early on as she'd marked passages with arrows while she still had some charcoal to write with. It hadn't taken long to realise she'd been running around in circles.
She didn't know how long she'd been here. She slept when she felt like it, had no sense of hunger or thirst and had not seen another living entity for as long as she'd wandered the maze. But it felt long. A very long time to have been lost.
Just as that depressing thought entered her mind, another black vortex appeared. Aliani considered briefly what to do about it. She was relatively safe here. But she was not getting anywhere either. Weighing her chances, Aliani was ready to take the bet when a dark, shadowy head popped through the vortex and white-hot red eyes stared her down.
Putting up her fists, Aliani readied herself for a fight, but she soon lowered them when a familiar person appeared behind the shadowy creature.
"Aliani, Thank the heavens." Alden called out, "We've been looking for you but somehow you got thrown off the initial track."
"Alden?" Aliani asked.
Could she trust her eyes. Or was she finally going insane? Alden took her hand and dragged her back toward the vortex. Aliani didn't struggle, she'd been meaning to take the plunge anyway.
The next thing she knew, she was standing in another cavernous space, though not too many staircases seemed to be around which was a relief. And more importantly, at the far end of her sight, there was light and what seemed to be trees. The view nearly brought tears to her eyes but before she could fully grasp what was happening, Alden drew her attention again:
"I can't stay long. Qetszal says he's already outstayed his welcome but thinks that the eggs waiting on the sands will produce remarkable offspring, even if he wasn't the one to sire them. Bond one of them and then we'll find each other again. I have a few others left to find to make this right again."
And then Alden was gone, leaving Aliani to her own devices. Her stomach rumbled and her throat felt dry as parchment. That seemed like an improvement and she decided to go look for a tavern to gather intel and maybe inquire about these eggs. If Alden had been here, then maybe she could casually drop his name to see if anyone reacted to it.
~*~-*-~*~-*-~*~-*-~*~-*-~*~-*-~*~-*-~*~-*-~*~-*-~*~-*-~*~-*-~*~-*-~*~-*-~*~-*-~*~-*-~*~-*-~*~
Hatching
text
image
~*~-*-~*~-*-~*~-*-~*~-*-~*~-*-~*~-*-~*~-*-~*~-*-~*~-*-~*~-*-~*~-*-~*~-*-~*~-*-~*~-*-~*~-*-~*~
ADULTS
text
image
~*~-*-~*~-*-~*~-*-~*~-*-~*~-*-~*~-*-~*~-*-~*~-*-~*~-*-~*~-*-~*~-*-~*~-*-~*~-*-~*~-*-~*~-*-~*~
Back to Story - Lantessama Isle
Credits: Background from 1-background.com
Fonts used are called Castellar and Lydian