Nebula Dreaming
~Kay'dee~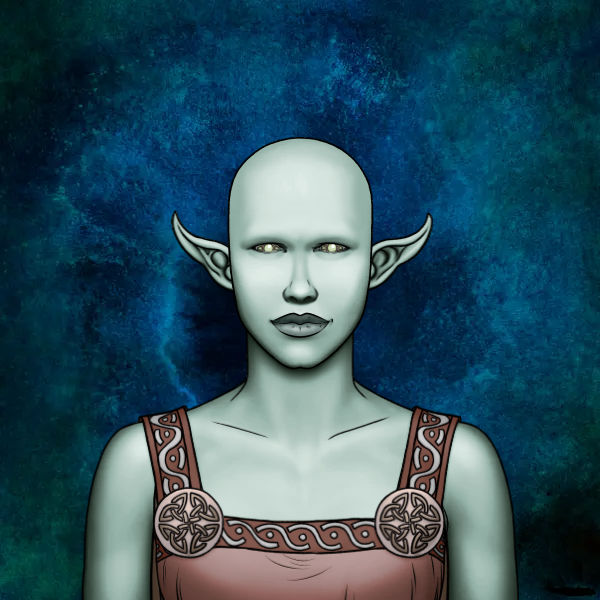 STATS
Name: Kay'dee
Age: Teen (17)
Gender: Hermpahrodite, identifies as female, orientation: open to experiment
Description & Personality: Kay'dee is mischievous and outgoing. She enjoys laughing and does not like to be told what to do. She is a force of nature and has landed many of her friends in trouble with her plans. And still people love her. She has a charming air that ensures she doesn't even get into too much trouble. Maybe it's her pale bluish skin or her bright white irises and pupils that give her an ethereal look. Or maybe it's her large ears that tend to quiver/move when she gets excited.
Skills: Static Charge. She always carries a charge.
Hobbies: Socialising, she will make friends instantly and enjoys going out.
Studying: Mechanics. Her static charge means she's best kept away from working equipment.
Family: Kay'dee was raised in a large family where both her parents identified as mostly male but took turns carrying offspring. She has two older siblings and three younger ones.
Social Life: Busy and varied.
Pets: --
°\_/°~°\_/°~°\_/°~°\_/°~°\_/°~°\_/°~°\_/°~°\_/°~°\_/°~°\_/°
HATCHING
text

°\_/°~°\_/°~°\_/°~°\_/°~°\_/°~°\_/°~°\_/°~°\_/°~°\_/°~°\_/°
FLIGHT
text
°\_/°~°\_/°~°\_/°~°\_/°~°\_/°~°\_/°~°\_/°~°\_/°~°\_/°~°\_/°
><>< STORY ><><
< Kay'dee >< Ug'ha >< Wi'oks >< Xi'pi
°\_/°~°\_/°~°\_/°~°\_/°~°\_/°~°\_/°~°\_/°~°\_/°~°\_/°~°\_/°
Lantessama Isle
Background images from Deitydiva