Tantamani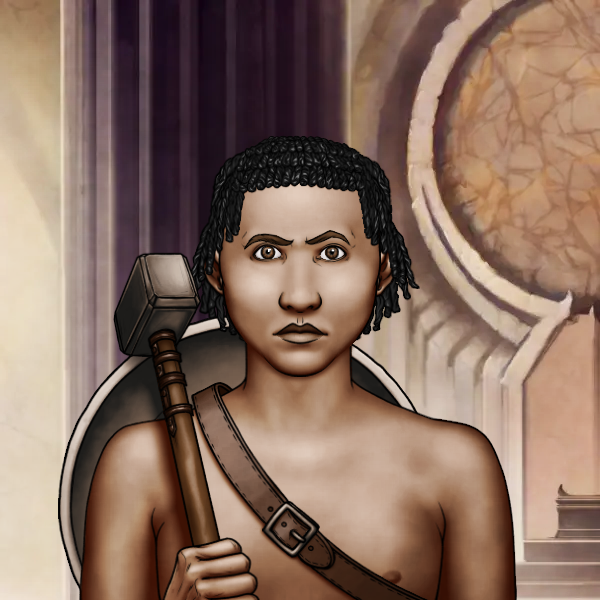 STATS
Name: Tantamani
Age: 17
Gender: Male
Description: Tantamani is a slender, short young man. He has little muscles to boast off but if he keeps up with the manual labour, that could change in the future. He keeps his hair in tiny braids and he usually sports a slightly surprised/wary expression.
Personality: Tantamani is careful. He comes from a low-born family and just about everyone at the temple is above him in status. He mostly tries to hide in the background and keep from getting noticed. Of course, getting the attention from a stray divine cat wasn't in his plans. But Tantamani just can't say no to a fuzzy face and he really cares for Raneb.
Function: Carpenter
Skills: Construction, Maintenance, Repairs.
Family: Tantamani grew up dirt-poor in a dusty town close to the Temple complex. His father taught him what he knew and from the age of 14, Tantamani joined his father on site to do maintenance and repairs. As the years went on, he got more skilled and managed to keep his job though he won't ever get a promotion.
Pet: Ash Red Velvet Checker Raneb from Cattery Caeligenus
Bond: ?? from Isla Weyr (All Earth Clutch III)
Name: Raneb (CaeliM003)
Coat: Ash Red Velvet Checker

Breed: Wild
Eyes: Yellow
Size: 46
Domestication: 60
Friendliness: 49
Noisiness: 30
Genetic Code:
BA//B+ Ash Red, carries Blue
CT//C Velvet Checker, carries Checker
+//e Carries Recessive Red
+//+ No White Spotting
+//+ Homozygous Yellow Iris
Parents:
Recessive Red Dark Checker Rustling (F028)
Black Velvet Checker with White Trouble (M135)

HATCHING
text
image

ADULT
text
image


STORY .-^-. MATIA .-^-. SIAMUN .-^-. TANTAMANI


Lantessama Isle
Background from 1-background.com
hieroglyphs typed with Segoe IU Historic.
Fonts used: Century schoolbook and Cooper Black